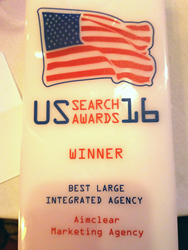 Aimclear is fanatically focused on each team member's whole person. We invest in our people to help them be great at what they do across all services we deliver for clients." -Marty Weintraub, Aimclear Founder
DULUTH, Minn. (PRWEB) October 13, 2016
Duluth-based Aimclear® is among the big winners during the 2016 US Search Awards, presented as part of the annual Pubcon marketing conference. The agency capped off a big awards ceremony with the nod for Best Large Integrated Search Agency, one of the premier awards presented during Pubcon. Aimclear also took home awards for Best Use of PR in a Search Campaign and Young Search Professional of 2016, which went to Aimclear's 24-year old search wiz kid Mitch Larson.
In its bid for the Best Large Integrated Search Agency award, Aimclear highlighted a number of key attributes that set it apart from other agencies. The company provides exceptional client support across multiple disciplines, including search (paid and organic), SEO, marketing strategies, advanced psychographic targeting, filtered retargeting, design, development, content creation, PR and multimedia production.
Aimclear also highlighted key client successes, including specific examples where the agency ran integrated search, social, content and PR campaigns that significantly increased leads, decreased cost per click (CPC), reduced cost per acquisition (CPA) and increased revenue - in multiple cases exceeding 20 percent gains. For one client in particular, Aimclear drove CPC down to an average of $0.43 against a CPC benchmark of nearly $15.
"Driving marketing outcomes motivates the Aimclear team to work hard for our clients every day," said Marty Weintraub, Aimclear founder. "Aimclear is fanatically focused on each team member's whole person, their environment and human rights. We invest in our people to help them be great at what they do across all services we deliver for clients."
"Being named Best Large Integrated Search Agency, along with the awards for Best Use of PR and Mitch Larson receiving the Young Search Professional award are all very humbling, because so many great agencies were represented in these competitive categories," added Aimclear CEO Laura Weintraub. "We're honored to be among such talented finalists in a competitive space that encourages marketers to set new boundaries through innovative strategies and techniques."
In its fourth year, the US Search Awards recognize agencies and professionals throughout the industry for excellence in search marketing, pay-per-click and digital marketing. In 2013, Aimclear Founder Marty Weintraub received the US Search Personality of the Year Award. In 2015, Aimclear received awards for Best Low Budget Campaign and Best Use of Social Media in a Search Campaign.
Pubcon is a premier social media and search optimization conference held each year since its inception in 2000. The event draws marketing and search engine experts from more than 130 countries.
About Aimclear®
Aimclear® is a Minnesota-based digital marketing agency widely regarded for data-driven tactics, integrated search, social, public relations, design and development services. Since 2007, the agency has pioneered cutting-edge creative strategies and psychographic audience targeting. Aimclear has offices in Duluth and St. Paul, Minnesota. For more information, visit aimclear.com.