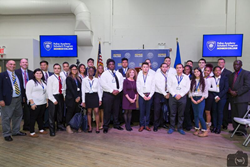 Bronx, NY (PRWEB) October 13, 2016
Monroe College, a national leader in educating urban and international students, today announced that it inducted its first class of students into its Police Academy ScholarS ("PASS") Program. The College developed the innovative two-year program to better prepare minority students for police academy success and support the efforts of the NYPD and other law enforcement organizations to increase their ranks' diversity.
Monroe's School of Criminal Justice launched the program to assist promising students, especially women and minorities, eager to join the New York Police Department (NYPD) better prepare for career success, starting with the rigors of the police academy. In addition to enhanced instruction and physical training, part of the curriculum focuses on simply helping students understand the prolonged and often complicated hiring process that, according to a New York Times report last year, can take up to four years on average for entry-level positions. Many minority applicants lack support navigating the bureaucracy and drop out of the process in frustration.
The PASS Program's inaugural class of 22 students was inducted on Oct. 6. Sergeant Angel Crespo, a 2007 graduate of Monroe's Criminal Justice program and now an adjunct professor in the School, gave the keynote address. Sergeant Crespo is also an active member of the NYPD's 52nd Precinct. More than 70 people were in attendance as the students affirmed their commitment to the program and public service by swearing an oath to abide by the highest standards of integrity and public service.
"Monroe's PASS Program is designed to grant promising future police academy recruits, especially women and minorities, the additional support, training, and instruction that can see them successfully through the police academy and beyond," said Michele Rodney, dean of Monroe College's School of Criminal Justice. "The program's curriculum is designed and taught by former and active members of the NYPD now among our faculty, individuals uniquely well-suited to the task."
PASS Program participants are enrolled within the School of Criminal Justice and have full access to available resources, including the recently installed Law Enforcement Training Simulator (LETS). The state-of-the-art teaching tool enables students to test the appropriate use of force, decision-making skills, and situational response times through realistic, computer-aided simulations of experiences they will likely encounter in the field.
Students are placed in cohorts similar to the squads in the NYPD Police Academy, with each one led by a faculty mentor with years of experience in law enforcement. Each cohort will progress through the program as a unit, following the same schedule of classes and workshops to build trust, accountability, and teamwork.
Admission to the program is highly competitive. Once enrolled, students must maintain full-time status and a 3.0 GPA in order to remain in good standing. PASS participants meet for 18 three-hour sessions over six semesters to prepare for all facets of a police organization's hiring process, including written test preparation, as well as medical, physical, and psychological testing. The students will engage in physical training and workouts, academic preparation for actual police academy subjects, and hands-on learning of important police tactics. Off-campus field trips are also part of the program.
Students interested in the PASS Program should contact Monroe's Office of Undergraduate Admissions at 800-556-6676 for more information. Applicants are required to submit a PASS program application, as well as a completed Monroe College application. The admissions review process includes an assessment of academic records, disciplinary record, a background check and high school attendance records.
ABOUT MONROE COLLEGE
Founded in 1933, New York-based Monroe College is a nationally ranked private institution of higher learning with a real-world learning approach that prioritizes hands-on academic experiences, practical and relevant academic programs, flexible learning schedules, best-in-class instructional technologies, and committed and engaged faculty to ensure that students are well positioned for career success upon graduation. Monroe is among the leading higher education institutions in the country for graduating minority students.
Monroe College offers Certificate, Associate, Bachelor's, and Master's degree programs. It has campuses in the Bronx, New Rochelle, as well as in the Caribbean nation of St. Lucia, with programs offered through its Schools of Criminal Justice, Information Technology, Nursing, Education, Business & Accounting, Hospitality Management and Culinary Arts, and Allied Health, as well as through its liberal arts and continuing education programs and its King Graduate School. For more information and admissions criteria, please visit http://www.monroecollege.edu
# # #