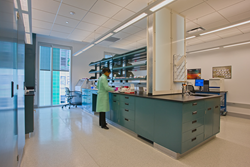 (PRWEB) October 13, 2016
The New Orleans BioInnovation Center announces four finalists in the 2016 BioChallenge Competition, an annual challenge that highlights and supports emerging life science startups across Louisiana that will generate jobs and economic growth in the state. The four companies were selected from a statewide applicant pool of nearly twenty startups developing new disease treatments, better diagnostic tests, tools to improve healthcare delivery, advanced materials, and other technologies. The finalists are:
1. Carre BioDiagnostics (New Orleans) aims to treat and prevent cardiovascular diseases in chronic kidney disease patients. Carre is initially focused on a simple diagnostic blood test to identify chronic kidney disease patients with coronary artery disease who are at high risk for heart attacks, allowing for earlier treatment, improved outcomes and reduced costs.
2. Chosen Diagnostics (New Orleans) is working to improve healthcare delivery for patients by personalizing their treatment. The company's first product is a biomarker test that can diagnose a common and life-threatening gastrointestinal disease in preterm infants, offering more accurate results than current options and allowing earlier intervention in these fragile patients. 
3. Grapheno (Shreveport) develops innovative graphene solutions. The company's first product is a conductive coating based on graphene which protects sensitive electronics in sectors from telecommunications to medical equipment by absorbing harmful and unnecessary electromagnetic radiation. It is a low-cost alternative that meets or exceeds the protection levels of existing solutions. 
4. Segue Therapeutics (Shreveport) is an early-stage privately owned biotechnology company dedicated to the discovery and medical use of repurposed drugs, or the application of approved drugs to new disease indications. Segue aims to treat pancreatic cancer, a devastating disease for which truly effective life-extending treatments are not currently available. 
The final public pitch event will be held Wednesday, November 16 at the Joy Theater. Each entrepreneur will make an eight-minute pitch to a panel of national investors and industry experts, who will select the $25,000 Grand Prize winner. Two additional prizes are available: the New Orleans BioFund Prize, a $25,000 investment, and the Audience Favorite Award, $2,500 cash given to the winner of a text vote by audience members and sponsored by the Conafay Group.
Past competition finalists have raised over $12 million to develop technologies that save lives and address environmental challenges. The BioInnovation Center is presenting the final pitch competition on November 16 during Global Entrepreneurship Week, along with several other events that highlight innovation in Louisiana universities and startups. Major support is provided by JPMorgan Chase & Co., Baker Donelson, and the Conafay Group. Learn more at http://www.neworleansbio.com/biochallenge/.
About the New Orleans BioInnovation Center
Opened in 2011, the New Orleans BioInnovation Center is a not-for-profit business incubator that fosters entrepreneurship and supports life sciences technology innovation across Louisiana. The Center offers office and lab facilities, educational events, business consulting, and the BioFund capital program to emerging startups as they work to bring new technologies to the market. From cancer treatment to water management, these include diagnostic tools, drugs, medical devices, health IT platforms, and clean technologies with great promise for addressing a wide range of medical and environmental problems. The Center's programs have supported and empowered more than 125 new Louisiana companies that have created nearly 400 jobs and attracted over $90 million in funding to the region. Learn more at http://www.neworleansbio.com.