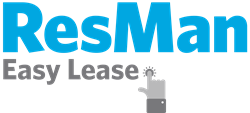 An easy online leasing experience is just as important as getting the deposit on a first-time showing–both increase closing ratios.
Plano, TX (PRWEB) October 18, 2016
ResMan® Easy Lease brings renters and management together online for a seamless end to end leasing and renewal experience. ResMan will feature Easy Lease during the NMHC OPTECH Conference and Exhibition on November 14-16, 2016. Attendees are encouraged to visit Booth #157 at the at the Hilton Anatole in Dallas, Texas to learn more about the fastest growing online property management software with reimagined customer experiences.
"An easy online leasing experience is just as important as getting the deposit on a first-time showing–both increase closing ratios. The number of leases secured online in today's market now surpass the leasing activity onsite. ResMan believes that all leasing activity is a core function of property management and should be part of the core property management software. As ResMan continues to provide leasing functionality, the ResMan team is determined to create a better experience for the applicant as well as the office staff," stated Greg Demski, SVP of Sales.
Built into the core platform, Easy Lease allows management to capture more leases by promoting available units in real-time. It's user-friendly online application, and appealing interface resonates with today's renter. Lead management tools allow for automated responses, assignment of leads and the option to email or text with renters. With a mobile-friendly UI, ResMan Easy Lease enhances the online leasing experience and increases efficiencies for the consumer and the site staff.
Easy Lease functionality is enhanced further by the Premier & Premier-Gold integration partners, who have made a commitment to work with ResMan to provide a seamless integration into the ResMan Easy Lease workflows. The ResMan+ Innovation Network provides access to innovation for today's operators through an Open API. ResMan has worked with industry leading providers to establish a new business model were partners commit resources and work together to meet the needs of today's operators. "Today's operators are looking for a seamless experience while still having the freedom of choice, something that the big box solutions cannot successfully deliver. ResMan has spent the better part of this year on the formalization of the ResMan+ Premier Partner Program so that pain is removed from vendor selection and consumers are allowed to take advantage of the best in class solutions already integrated into the software," said Elizabeth Francisco, SVP of Product Management.
With workflows that capture the application, secure payments, screen and approve applicants, generate lease forms including Blue Moon documents and securing electronic signatures, lease management is elevated with ResMan Easy Lease. NMHC OPTECH conference attendees are invited to meet Greg Demski, Senior Vice President of Sales and other ResMan team members at Booth #157 during Exhibit Hours on November 14-16 to learn more about ResMan core solution including Easy Lease and other enhanced product features offered by ResMan.
About ResMan
ResMan® is the fastest growing property management software solution in the multifamily industry, providing easy-to-use automation tools that improve operational effectiveness and productivity for Conventional and Affordable Housing Property Management. In an age of new ideas, ResMan prides itself on recruiting some of the brightest minds in the industry to deliver intuitive software and industry-leading customer experiences. Built on a single platform; ResMan® provides a highly intuitive solution to meet both operational and accounting needs for the multifamily owner/operator. Commitment to the end users is evident from the ResMan+ Innovation Network which provides access through a free and open API for best-in-class solutions to meet each customer's unique needs. Premier-Gold partners are seamlessly integrated into workflows to create a better experience for our shared customer. For more information call 855-737-6261 or email sales(at)myresman(dot)com