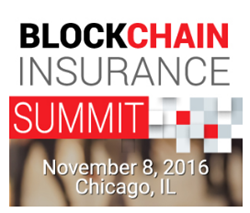 The first Blockchain event in North America dedicated exclusively to the insurance industry.
Chicago, IL (PRWEB) October 18, 2016
Red Chalk Group, a strategic advisor to senior executives at leading financial organizations, announces its inaugural Blockchain conference event, The Blockchain Insurance Summit, to be held in Chicago, Illinois on November 8, 2016.
"We are very excited to be hosting a dedicated Blockchain event for the insurance industry," said Raymond Zenkich, Managing Partner of Red Chalk Group. "This program is the only US program to be 100% focused on insurance with topics covering new Blockchain enabled products, consortiums such as R3, regulatory challenges, and emerging identity standards. This new and exciting event brings together industry leaders and technology experts in Blockchain to highlight the latest thinking in applying this ground-breaking technology to the insurance industry."
The depth of the program is highlighted by the outstanding backgrounds and experiences of the speakers who together share a passion for insurance and a strong appreciation for the disruptive potential of Blockchain. As Mr. Zenkich notes, "We plan to explore the critical strategic questions posed by Blockchain today including where Blockchain holds the most promise, where it will face the greatest internal hurdles, how regulations will need to evolve, and where InsureTech startups are aiming to take share."
Some highlights from the program include Richard Magrann-Wells, Executive Vice President with Willis Towers Watson, who will provide unique and pragmatic insight into Blockchain's potential to transform the entire insurance industry through distributed ledgers, smart contracts, and big data; Ryan Rugg, Director with R3 CEV, will shed light on how insurance companies can work together through consortiums to accelerate Blockchain adoption; and Caitlin Long, Chairman of the Board & President of Symbiont, will bring additional perspective to the event by discussing lessons learned from banks and their Blockchain initiatives and by exploring how to apply these to the insurance industry.
Insurance Director Anne Melissa with the Illinois Department of Insurance will participate in a unique regulatory panel that discusses the challenging regulatory and policy conversations that technologies like Blockchain are driving. Jason Brett, Director of Operations at the Chamber of Digital Commerce, will share current research he is working on with the Smart Contract Alliance and will flesh out practical use cases for insurance including temporal coverage. "We are also very excited to have Manu Sporny with World Wide Web Consortium (W3C) discuss their current work around verifiable identity and how it could impact Cyber Risk Mitigation and to have Christopher Burniske, Blockchain Products Lead with ARK Invest, share his extensive research on Blockchain and Healthcare insurance payers," added Mr. Zenkich in highlighting areas where the Blockchain Insurance Summit will provide a unique level of detailed discussions.
"We have just started to uncover innovative cases in blockchain usage by the insurance industry, relating to peer-to-peer products, new business models and efficiency-related initiatives," says William Mougayar, author of The Business Blockchain and a speaker/moderator at the Blockchain Insurance Summit. "Some of the areas targeted include fraud detection, claims processing, record keeping and new identity driven applications, where the blockchain is seen as this once-in-a-lifetime catalyst to re-engineer, re-invent and re-imagine existing practices with new ones."
Today's insurance industry faces numerous challenges in regulation, business, and investment. With constant changes in customer's behavior and disruptive technology, it is imperative that firms be nimble and adaptable to these changes and seize emerging opportunities to position themselves for success. Understanding which Blockchain opportunities and technology applications are available is critical to achieving these goals and the Blockchain Insurance Summit is designed to advance these discussions.
Chicago was chosen for the event based on the central role it plays for many insurance carriers and brokers around the world and its global importance as a financial services center. In addition, the State of Illinois recently announced its Blockchain Working Group which highlights the forward-looking posture the State is taking and makes Chicago a natural home for this exciting event.
Blockchain Insurance Summit attendees include a wide range of insurance professionals – insurance carriers, brokers, and executives and senior managers with areas of responsibility covering Enterprise Strategy, Digital Strategy, Innovation, Regulation, Agents/Field Service, Administration, Claims/Billing. Blockchain leaders within state regulatory agencies will also be in attendance.
For more information or to register, visit Blockchain Insurance Summit
Faculty of speakers:
William Mougayar, Author, The Business Blockchain
Richard Magrann-Wells, Executive Vice President, Willis Towers Watson
Ryan Rugg, Director, R3 CEV
Anne Melissa Dowling, Director, Illinois Department of Insurance
Jason Brett, Director of Operations, Chamber of Digital Commerce
Christopher Burniske, Blockchain Products Lead, ARK Invest
Brian Casey, Partner & Co-Chair Regulatory & Transactions Insurance Group, Locke Lord LLP
Andrew Keys, Head of Global Business Development, ConsenSys
Caitlin Long, Chairman of the Board & President, Symbiont
Nikhil Niyab, Blockchain Innovation Lab, Oktay Technology
Sue Ross, Senior Counsel, Norton Rose Fulbright US LLP
Manu Sporny, Credentials Community Group Chairperson, World Wide Web Consortium (W3C)
Louis Stone, Managing Director & Global Head of Business Development, Symbiont
Steve Yatko, Blockchain Innovation Lab, Oktay Technology
Raymond Zenkich, Managing Partner, Red Chalk Group
About Red Chalk Group:
Headquartered in Chicago, Illinois, Red Chalk Group is a boutique strategic advisor to senior executives at leading, global financial organizations and it is routinely engaged to help companies understand and navigate disruptive technologies. Red Chalk Group's Blockchain Advisory Practice and Blockchain Innovation Lab combines industry and technology professionals with deep industry and hands-on technology experience within financial services and Blockchain to enable a pragmatic, high-impact approach.
Contact:
Raymond Zenkich, Managing Partner
847-390-0700 ext. 2
http://www.redchalk.com