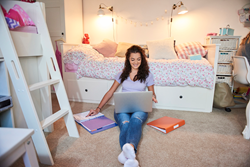 LINCOLN, R.I. (PRWEB) October 17, 2016
Living away from home can be an exciting time for college students, but it's important for them to keep fire safety in mind. That's why Amica Insurance is sharing safety tips for on- and off-campus housing.
Taking a few minutes to make sure the environment is fire-safe will help keep students aware of potential hazards. Amica is sharing the following tips from the National Fire Protection Association to promote fire safety:

Look for housing that has sprinklers when choosing a dorm or off-campus residence.
Be sure housing has smoke alarms inside each bedroom, outside every sleeping area and on each level.
Test all smoke alarms at least once a month. Never remove batteries or disable the alarm.
Learn the building's evacuation plan and practice drills.
If living off-campus, have a fire escape plan with two ways out of every room.
When the smoke or fire alarm sounds, get out of the building quickly and stay out.
During a power outage, use a flashlight.
Cook only where it's permitted, and stay in the kitchen when cooking.
Check the school's rules before using electrical appliances in your room.
Use a surge protector for computers.
About Amica Insurance
Amica Mutual Insurance Co., the nation's oldest mutual insurer of automobiles, was founded in 1907. The company, based in Lincoln, Rhode Island, is a national writer of auto, home, marine and umbrella insurance. Life coverage is available through Amica Life Insurance Company, a wholly owned subsidiary. Amica employs more than 3,500 people in 44 offices across the country. For more information, visit Amica.com.
Media inquiries can be sent to MediaCenter(at)amica(dot)com.
Twitter: Amica
Facebook: Amica Mutual Insurance Co.