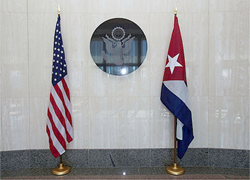 Today is a day to celebrate the new opportunities for improved health outcomes for both American and Cubans through closer cooperation in medical research and its results, particularly in critical areas such as cancer and diabetes
Oakland, CA (PRWEB) October 14, 2016
The non-profit MEDICC (Medical Education Cooperation with Cuba) applauds the Obama Administration's decision to eliminate obstacles that have kept Cuban health innovations from reaching Americans.
The U.S. Treasury Department´s Office of Foreign Assets Control (OFAC) announced today amendments to the Cuba embargo regulations that will allow U.S. medical research centers to collaborate with Cubans in commercial as well as non-commercial research. The changes also permit Cuban-developed pharmaceuticals to enter normal FDA regulatory channels, and be sold in the United States if FDA approved.
"These two Presidential actions—which will first and foremost benefit patients in both countries—were top priorities in MEDICC's White Paper sent to the White House in February, so we are especially pleased to see this announcement," said Dr. Nassim Assefi, executive director of MEDICC. "Today is a day to celebrate the new opportunities for improved health outcomes for both American and Cubans through closer cooperation in medical research and its results, particularly in critical areas such as cancer and diabetes," she said.
While today's OFAC announcement addresses many of the MEDICC-recommended actions, others are yet to be adopted, such as allowing U.S. patients to travel to Cuba for medical treatment, providing Americans with more options for care, especially given Cuba's global recognition for many medical advances not yet available in the United States.
About MEDICC
Since 1997, MEDICC has worked to disseminate the approaches and outcomes of Cuba's public health system, as a contribution to the global quest for universal health and greater health equity. MEDICC facilitates mutual learning opportunities in several ways: its documentary film ¡Salud!; the open-access, MEDLINE-indexed English journal, MEDICC Review, that publishes research by Cuban and other scholars from the Global South whose work touches on health equity; insightful trips to Cuba for US health policymakers, educators and practitioners; a national network of US communities whose leaders have been inspired to innovate for better health, thanks to their MEDICC-organized experiences in Cuba; and by serving as an institutional bridge-builder between US, Cuban and global health institutions and organizations. MEDICC also assists US students and graduates of Havana's Latin American Medical School to return home to practice in provider-shortage areas, and supports US policies that facilitate greater health cooperation with Cuba for the benefit of people in both countries.