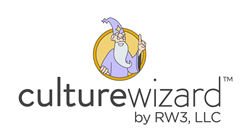 "In a learning environment, people absorb and digest information in different ways.The new CultureWizard platform caters to each individual's preference for learning in a stimulating, fun and highly personalized way."
(PRWEB) October 17, 2016
RW3 CultureWizard, a provider of online, mobile and instructor-led cultural learning for the global business community, today unveiled a new online platform. The new CultureWizard provides a personalized learning experience that teaches global skills for anyone conducting business in a global organization. The platform allows users to quickly and efficiently access intercultural courses and detailed content for 160 countries enabling them to be effective and productive doing business around the world.
"The proper cultural training can mean the difference between success and disappointment when conducting business globally," said Michael Schell, CEO RW3 CultureWizard. "In a learning environment, people absorb and digest information in different ways. The new CultureWizard platform caters to each individual's preference for learning in a stimulating, fun and highly personalized way."
The new CultureWizard platform uses smart technology to deliver over 8,000 courses, games, assessments and country resources based on the user's selected preferences at the start of their cultural learning journey. From the user-selected preferences and by tracking usage history, CultureWizard can recommend the most useful and valuable content. Courses and videos are delivered in short segments so that busy professionals can fit learning easily into their work schedules. The platform also offers advanced search functionality and enhanced, intuitive navigation.
"CultureWizard offers the most comprehensive, intuitive and engaging e-learning platform, leveraging RW3's 30-plus years of cultural training experience," Michael Schell continued. "The way adult learners access and absorb information has changed, and our new site reflects both the technology and content that sophisticated corporate users expect to get."
To learn more about the new CultureWizard platform and for information about demos and pricing, please visit http://www.rw-3.com.
About RW3 CultureWizard:
CultureWizard is a complete online cross cultural training facility, containing cultural awareness e-learning courses, virtual team training, global leadership assessment tools, and culturally-focused country profiles on 160 countries. For more information, please visit http://www.rw-3.com.