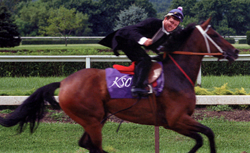 The KSO takes to the track with race horses and war horses in its 25th Anniversary Season. —James Cassidy, KSO Music Director / Founder.
Highland Heights, KY (PRWEB) October 18, 2016
The Kentucky Symphony Orchestra opens its 25th Anniversary Season on October 22nd, back at Greaves Concert Hall, with an all-orchestral program of overtures dubbed "The Over Tour." Classical music buffs will bet to win on sturdy, reliable 19th century warhorses (William Tell, Poet and Peasant, Zampa, Flying Dutchman) while picking muscular and skittish racehorses (Celebration, Circus and Tam O'Shanter Overtures) of the 20th - 21st centuries to place or show.
For many attending the evening will seem like a concert of cartoon music as these works by Rossini, Suppe, Herold and Wagner have been employed liberally in animated classics by the masters — Walt Disney, Chuck Jones, Walter Lantz and Hanna Barbara. Others may recognize these tunes from movies and TV commercials (because they are royalty free). These works became "warhorses" because they are engaging, fun, hummable, evocative and spirited. As the opening work of many concerts and / or operas, these overtures represent the best of what is to follow.
Rossini's William Tell Overture (1829) is the most memorable excerpt from the 5-hour French grand opera. With its opening cello quintet, violent storm, pastoral sequence and galloping finale, this overture easily lands on classical music's all-time top ten list. The Poet and Peasant Overture (1846), one of Franz von Suppe's hits, has often (though inaccurately) been linked to the song "I've Been Working on the Railroad" (1894). Louis Herold's Zampa Overture (1831) is an old rouser that was featured in the title and throughout an Andy Panda cartoon.
New works labeled overture are rarely from operas. They perform a similar concert-opener function, but are more identified by the tunes and sounds which they emulate. Peter Boyer's 2001 Celebration Overture offers a recurring flourish reminiscent of John Williams, with a dash of Copland sprinkled in the fresh thematic material. The Circus Overture (1944) of William Schuman sonically paints a night at the "Big Top," complete with barking ringmaster, trapeze acts and anxious daredevil passage work. Based on the famous Robert Burns poem, the Tam O' Shanter Overture (1955) of Malcolm Arnold captures the drunk clambering onto his mare, raucous descriptive scenes and the big chase across Scotland's Brig o'Doon.
"For the 25th season opener, the program is really about the orchestra and featuring old and new music, many of which are staples, of the repertoire" Music Director and founder James Cassidy remarked. Harkening back to that very first season Cassidy reminisces: "The gentlemen won't be wearing purple bow ties like they did back in 1992, but perhaps I should rummage about to look for mine."
The Kentucky Symphony Orchestra once again fills Greaves Concert Hall with great orchestral music at 7:30 p.m., Saturday, October 22 at Greaves Concert Hall, NKU, Highland Heights, KY. Reserved seating tickets are $19, $27, $35 (children ages 6-18 are 50% off) and are available online at kyso.org, by phone (859) 431-6216 or at the door.
About the KSO:
For nearly 25 years The Kentucky Symphony Orchestra has taken the "phony" out of symphony through live thematic concerts that culturally enrich, educate and entertain the residents of Northern Kentucky and Greater Cincinnati. The KSO performs throughout Northern Kentucky with three popular series of concerts.