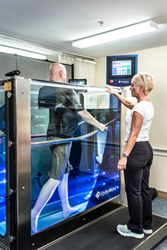 We're incredibly excited to once again be a part of APTA's PPS Annual Conference.
Middletown, PA (PRWEB) October 17, 2016
The 60th APTA PPS Conference will be held at the Wynn Las Vegas from October 19-22, 2016. This anniversary event has shaped up to be a stellar convention for physical therapy business management providers and professionals, offering the attendees the opportunity to test out incredible new modalities including the HydroWorx 300.
HydroWorx, a long-time exhibitor at the APTA PPS Conference, will offer demonstrations in the HydroWorx 300 for those who pre-register. Made of 316 marine grade stainless steel and tempered glass, the HydroWorx 300 is a revolutionary stand-alone piece of equipment that enables clinics of all sizes to finally offer aquatic therapy to their clientele without the additional construction costs of adding a hydrotherapy room. With a sleek underwater treadmill and high-powered resistance jet system, the HydroWorx 300 is the perfect tool for physical therapists, for rehabilitation, preventative rehabilitation and conditioning.
HydroWorx team members will be located at Booth #723 in the Exhibit Hall. Registration for demonstrations in the HydroWorx 300 can be made by contacting Nicole Biesecker, nicole(at)hydroworx(dot)com. Times are limited, so early sign-up is suggested.
In addition to demonstrations of the HydroWorx 300 underwater treadmill, HydroWorx will offer:

A giveaway of $35 (the typical reimbursement rate per billing unit for aquatic therapy) for anyone who tries the HydroWorx 300.
A Happy Hour at Booth #723, complete with drinks on Thursday, October 20, from 1:00-3:00 p.m.
An exclusive PPS Show Discount on the purchase of a HydroWorx 300.
"We're incredibly excited to once again be a part of APTA's PPS Annual Conference," says Rob Miller, Chief Sales Officer, HydroWorx. "This premier event allows us to connect and build relationships with people around the country who are actively working to help others heal through innovative physical therapy solutions. Being able to assist them in their objectives with our line of HydroWorx aquatic therapy pools and technologies is a true privilege."
About HydroWorx
Since the late 1990s, HydroWorx has manufactured aquatic therapy pools with integrated underwater treadmills to enable rehabilitation professionals to more effectively offer their patients the opportunity to increase range of motion, decrease risk of falls and joint stress, and remain motivated through the rehab process.
Products such as the HydroWorx 2000 and 500 Series therapy pools, along with the new HydroWorx 300 system have revolutionized the face of aquatic therapy; in fact, HydroWorx technology is used by world-class facilities such as OrthoCarolina, Cleveland Clinic, Kennedy Krieger Institute, Genesis Healthcare, Neuroworx, Clear Choice Healthcare, PruittHealth, Premier Rehab, Leg Up Farm and many other healthcare facilities across the country.
HydroWorx offers a wide range of underwater treadmill pools and peripheral products and services. Every day, more than 29,000 athletes and patients use HydroWorx technology to recover from injuries and health conditions.
More information about HydroWorx can be found at http://www.HydroWorx.com.