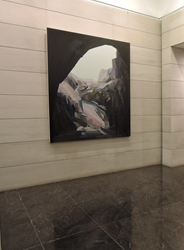 (PRWEB) October 18, 2016
NEW YORK—New York-based artist Claire Sherman will showcase six paintings at the lobby gallery at 527 Madison Avenue, a boutique office building in the Plaza District. The paintings, many of which exemplify Ms. Sherman's signature style of large-scale, tight-focus landscapes, will be on display through November 22, 2016. Located at 54th Street and Madison Avenue, the show is open to the public from 9 a.m. to 5 p.m., Monday through Friday.
Using slashing brushwork and vibrant contrasting colors, Sherman depicts massive tree trunks, rushing rivers and the interiors of caves, often from unexpected viewpoints. Scale is an important component of her work, placing objects in the extreme foreground and rendering their minute details while a deep background space spills out behind them. This dramatic effect is enhanced by the substantial format of her canvases, one of which on display is 14 feet long.
"Claire Sherman's paintings bring a fresh perspective to the tradition of landscape painting, suggesting new ways of looking at the natural world," said Jay Grimm, who serves as art consultant to Mitsui Fudosan America (MFA), the building owner, and organizes the property's arts program. "She herself has said that she hopes the paintings at once invite viewers in as well as push them out."
While distortion is central to Sherman's work, her paintings are extremely descriptive; Sherman's keen observations convey a sense of place. Though the unusual viewpoint of these paintings makes it difficult to identify their exact location, the viewer understands Sherman's scenes as real and not imaginary. The artist's ability to imbue her almost otherworldly images with the specificity conventionally associated with landscapes commands attention.
"We were in awe of the great visual impact her paintings created and how they beckon closer inspection," said MFA's Keith Purcell, vice president of asset management and leasing. "Like many of the artists who have shown their work at 527 Madison, Claire Sherman is a New York artist with a distinctive style that we believe will resonate with all people, not just avid art followers."
Sherman's show marks the eighth exhibition in 527 Madison's ongoing program showcasing noteworthy emerging and mid-career artists, which is part of MFA's mission to support the arts.
"I'm delighted to show my work at 527 Madison, a more unconventional venue that has a broader reach beyond traditional galleries," says Sherman, who is represented by the DC Moore Gallery in Chelsea, New York, which is also holding a show of her work from October 6 - November 5. "Also gratifying is that passersby on the city street will see the works in the illuminated space at night as well."
Claire Sherman holds an MFA from the School of the Art Institute of Chicago and is an Associate Professor at Drew University in New Jersey. She has completed residencies at the Terra Foundation for American Art in Giverny, the MacDowell Colony, the Lower Manhattan Cultural Council's Workspace program, the Marie Walsh Sharpe Foundation, and Yaddo. The artist has exhibited widely throughout the United States and in Amsterdam, Leipzig, London, Seoul, and Turin.
# # #
About 527 Madison Avenue
527 Madison Avenue, located at the corner of 54th Street in New York City, is a boutique 26-story commercial office building designed by celebrated architectural firm FXFOWLE. Completed in 1986, it is owned by an affiliate of Mitsui Fudosan America, Inc., which recently invested in significant upgrades including elevator modernization and a new MdeAS-designed lobby.
About Mitsui Fudosan America, Inc.
Mitsui Fudosan America, Inc. (MFA) is a real estate investment and development company headquartered in New York City and is the U.S. subsidiary of Mitsui Fudosan Co., Ltd. – Japan's largest publicly traded real estate company. MFA's history in the United States dates back to the early 1970s. Since its inception, MFA has acquired and developed numerous office, multifamily and hospitality properties in major markets throughout the U.S. In addition to its significant portfolio of office buildings, MFA recently expanded its development platform, with several office and multifamily development projects launched in New York, Seattle, San Francisco, and Washington D.C.