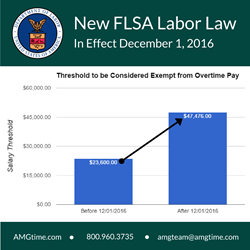 Los Angeles, CA (PRWEB) October 17, 2016
On December 1, 2016, the Department of Labor's new FLSA labor law will increase the threshold to be considered exempt from overtime pay from $23,600 to $47,476 affecting about 4.2 million employees nationwide. AMGtime is here to assist businesses transition to the new threshold by effectively tracking and monitoring time and attendance, in order to avoid a large spike in labor costs.
With the updated law, employees under the threshold will become non-exempt, and receive overtime for the extra hours worked. This update will increase the income of many working citizens in the United States. Business owners might also be inclined to shift the extra hours to other employees, or hire new workers.
Employers need to take the proper steps in order to avoid seeing a jump in their labor costs. AMGtime has outlined four steps an employer can follow to prepare for the threshold increase.
1. Pinpoint salaried employees making less than a salary of $47,476 and working more than an average of forty hours a week
2. Using each affected employee's salary and average hours worked, calculate their hourly rate
3. With the hourly rate received above, calculate the new compensation for each employee
4. Decide to either raise employee's salary to $47,476, convert to hourly wages, or keep the salary the same and pay the appropriate overtime pay rate
Regardless the path employers take, implementing a system to track and monitor employee time and attendance is critical to stay complaint with the Overtime Law. With extensive experience working side by side with businesses, AMGtime has solutions that will make the preparation process simple and stress free. The AMGtime software can track and monitor hours of salaried or hourly employees, run countless reports, and control overtime with an easy dashboard; available in the cloud or on a client server. Organizations can also choose from a variety of data capture devices such as fingerprint readers, HandPunch, mobile app, or directly from the PC.
About the Company
With over 23 years of industry experience, AMG Employee Management Inc. is a national leader in providing comprehensive time and attendance products and services. This innovative Los Angeles based company has a passion for supplying companies with solutions that boost the accuracy of time and payroll records. From basic to highly customizable solutions for niche markets, AMG Employee Management delivers the best solution, based on the needs of each company.