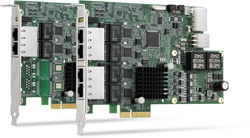 Based on ADLINK's extensive system expertise, the PCIe-GIE72/74 was designed with comprehensive PoE protections in order to eliminate the threat of asset damage.
San Jose, CA (PRWEB) October 18, 2016
ADLINK Technology, a leading global provider of embedded building blocks and application-ready intelligent platforms, today announced the release of its new PCIe-GIE72/74 2/4CH PCI Express® GigE vision Power over Ethernet (PoE)+ frame grabbers. With comprehensive PoE power protection exclusive to ADLINK, multi-card capture capability, and smart PoE management combined with ADLINK's extensive experience in GigE vision-based solutions, the PCIe-GIE72/74 provides complete support for a wide range of machine vision applications. Key assets, such as cameras and other equipment, are secured from damage by the PCIe-GIE72/74's PoE power protection. In addition, a user friendly PoE management utility and APIs monitor and control PoE ports in real time and enable prediction of possible failure events.
Multi-card Capture Capability
Any number of PCIe-GIE72/74 cards can be installed in a single system without occupying any BIOS I/O resources. Combined with wide operating temperature tolerance from 0˚C to 70˚C, the multi-card capability makes the PCIe-GIE72/74 ideal for deployment with fanless computers in environments with limited space and in applications such as automated optical inspection (AOI) and industrial automation.
Comprehensive PoE Protection
Based on ADLINK's extensive system expertise, the PCIe-GIE72/74 was designed to comprehensive PoE protections in order to eliminate the threat of asset damage. The frame grabbers respond to over/under current, voltage and temperature events, and their automated power budget control manages budgets according to source (PCIe or 4/6 pin Molex connector). When the budget is exceeded, PoE power is interrupted to prevent damage to connected devices.
Smart PoE Management
The PCIe-GIE72/74's easy-to-use utility and APIs provide real-time PoE status monitoring of device class, voltage, current, wattage and temperature. PoE power can be remotely switched on and off; PoE port priority and thermal thresholds remotely set; and possible failure predicted, all reducing operating costs and circumventing downtime.
The PCIe-GIE7x Pro series with PoE will launch in early November. Learn more about the ADLINK PCIe-GIE7x series frame grabber at http://www.adlinktech.com.
About ADLINK
ADLINK Technology is enabling the Internet of Things (IoT) with innovative embedded computing solutions for edge devices, intelligent gateways and cloud services. ADLINK's products are application-ready for industrial automation, communications, medical, defense, transportation, and infotainment industries. Our product range includes motherboards, blades, chassis, modules, and systems based on industry standard form factors, as well as an extensive line of test & measurement products, smart touch computers, displays and handhelds that support the global transition to always connected systems. Many products are Extreme Rugged, supporting extended operating temperature ranges, and MIL-STD levels of shock and vibration.
ADLINK is a Premier Member of the Intel® Internet of Things Solutions Alliance and is active in several standards organizations, including the PCI Industrial Computer Manufacturers Group (PICMG), the PXI Systems Alliance (PXISA), and the Standardization Group for Embedded Technologies (SGET).
ADLINK is a global company with headquarters in Taiwan and manufacturing in Taiwan and China; R&D and integration in Taiwan, China, the US, and Germany; and an extensive network of worldwide sales and support offices. ADLINK is ISO-9001, ISO-14001, ISO-13485 and TL9000 certified and is publicly traded on the TAIEX Taiwan Stock Exchange (stock code: 6166). For more information on ADLINK, please visit http://www.adlinktech.com.
# # #
All trademarks are the property of their respective owners in the U.S. and other countries.