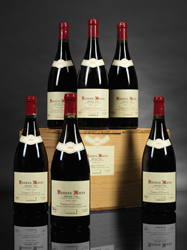 We couldn't be more pleased with the results of The Vault. From Hong Kong to New York, to the internet auction, we proved beyond a shadow of a doubt what we already knew: the rarest Burgundy in the world is a hot commodity. - President Jeff Zacharia
White Plains, New York (PRWEB) October 18, 2016
Le Bernardin Privé was packed on a gorgeous autumn Saturday, October 15, as the second part of the single-owner sale The Vault went to the block. Zachys' auctioneers Jamie Pollack and Charles Antin lowered the gavel on just over 900 lots as over a hundred attendees enjoyed a Le Bernardin lunch with their glasses full of Cheval Blanc 1995 from imperial (for breakfast), Salon 1999 (for lunch), and Pétrus 1982 from imperial (an afternoon snack).
The stars of the show were the wines on offer—Burgundy was the heavy hitter and why many came to the auction, but two bottles of Bordeaux cracked the top ten, and those two were serious bottles: an imperial of Latour 1961, with a trail of provenance directly back to the Château sold for $91,875 (the highest price realized at auction in the past five years) and a jero (five liters) of Mouton-Rothschild 1961 sold for $31,850, (the highest price paid at auction in the past 10 years). All in all, over 900 magnums, 172 d-mags, 132 six-liter bottles, and even 12, 15, and 18-liter bottles sold to bidders as diversified as coast-to-coast USA, Thailand, Japan, Beijing, Taiwan, the UK, South Korea, Singapore, Mexico, Luxembourg, Hong Kong, France, Switzerland, Canada, Brazil, and even our friends Down Under.
But Burgundy was the big winner on Saturday, especially the magnums. six magnums of Roumier Bonnes Mares Vieilles Vignes 1988 sold for $91,875 (a world record, by the way, but who's counting?), tied for the top lot of the day with the Latour 1961 6L. six magnums of Rousseau Chambertin 1991 weren't far behind at $51,450. There was feverish bidding for lots that smashed their pre-sale high estimates, with 12 Roumier Bonnes Mares 1988 selling for $29,400 against a pre-sale high estimate of $17,000 and six bottles Ramonet Montrachet 1986 selling for $29,400 against a pre-sale high estimate of $17,000. White wines from Ramonet had their day too, with 8 bottles of Bienvenues-Bâtard-Montrachet 1988 selling for $8,575, against a pre-sale high of $3,600. Even California did well: three bottles of Diamond Creek Red Rock Terrace 1978 sold for $3,430, blowing their pre-sale high estimate of $1,400 out of the water.
All in all, an astonishing 488 of the 909 lots on offer sold for above their high estimates. Over a quarter of the sale sold to a packed saleroom, where the energy was palpable. What's more, 3 lots sold over $50,000, 38 lots over $20,000 and an astonishing 130 lots over $10,000.
In total, The Vault Parts I and II, and the Vault eAuction, realized $11,986,289. With one more eAuction to go, The Vault should exceed its pre-auction high estimate of $12,000,000 with ease.
Jeff Zacharia, President of Zachys, commented, "We couldn't be more pleased with the results of The Vault. From Hong Kong to New York, to the internet auction, we proved beyond a shadow of a doubt what we already knew: the rarest Burgundy in the world is a hot commodity. Roumier, Rousseau, Mugnier and Ramonet certainly ruled the day on Saturday. If our annual La Paulée auctions weren't enough proof, can anyone think of a reason not to entrust rare Burgundy to Zachys now? And we're not done with 2016 yet. We've got the Vault eAuction Part II coming up next. Then, on November 19 in Hong Kong we've got a wonderful sale, including hundreds of bottles of rare spirits. And then we're back in New York on December 2 and 3 for wines direct from Nath. Johnston & Fils (including a 4.5L Pétrus 1924, bought on release), a domaine-direct consignment from Faiveley, and one of the largest collections of Masseto ever to come to market. We hope to see you soon!"
The Top Ten
Lot 853: one imperial (6L) of Château Latour 1961
Price realized: $91,875
Lot 1337: six magnums (1.5L) of Bonnes Mares Vieilles Vignes Georges Roumier 1988
Price realized: $91,875
Lot 1443: six magnums (1.5L) of Chambertin Armand Rousseau 1991
Price realized: $51,450
Lot 1485: six magnums (1.5L) of Chambertin Clos de Bèze Armand Rousseau 1991
Price realized: $46,550
Lot 1459: six magnums (1.5L) of Chambertin Armand Rousseau 1999
Price realized: $41,650
Lot 1400: three magnums (1.5L) of Musigny Georges Roumier 1990
Price realized: $36,750
Lot 1439: six magnums (1.5L) of Chambertin Armand Rousseau 1989
Price realized: $34,300
Lot 1309: nine bottles (750ML) of Montrachet Domaine Ramonet 1989
Price realized: $31,850
Lot 1408: twelve bottles (750ML) of Musigny Georges Roumier 1998
Price realized: $31,850
Lot 1490: six magnums (1.5L) of Chambertin Clos de Bèze Armand Rousseau 1995
Price realized: $31,850