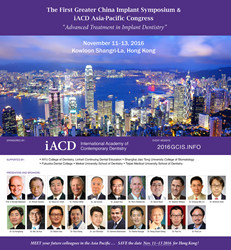 Suddenly, millions of people [in China] are able to afford services like dentistry that they weren't able to before; this has created such an enormous demand for dentists that local universities can't teach new dentists fast enough
New York, NY (PRWEB) October 19, 2016
China's rapidly expanding middle class is creating a demand for dentists that is far greater than local dentists can keep up with. It is now easier than ever for foreign dentists from the United States to visit China for short periods throughout the year and provide services to local patients.
The special info session is on Sunday Nov 13, 2016. This session will be providing details about qualifications, local licensing regulations, work visas, clinic selection, etc, as well as answering any questions for dentists interested in working in China.
China has over 1.3 billion people, in the past 20 years a large number of these people are becoming the rapidly expanding middle class. Suddenly, millions of people are able to afford services like dentistry that they weren't able to before; this has created such an enormous demand for dentists that local universities can't teach new dentists fast enough.
Many dentists from Taiwan, Japan, the U.S, and Europe, are now regularly visiting China to provide services to local patients. Hospitals and clinics in China are eager to partner with qualified foreign professionals to working domestically.
It's typical for dentists from the west to visit multiple times a year; many dentists are visiting one week each month, or sometimes two weeks every few months. The length and frequency is usually flexible and can be adjusted to fit work and family schedules.
In addition to this info session track, hundreds of dentists are attending the IACD's First Greater China Implant Symposium with a panel of world renowned speakers. Attendees will be able to mingle with many Chinese dentists and learn about the work environment in the field.
Registration, location, a list of speakers and more information is available on the event website at http://2016gcis.info (U.S. citizen holding a U.S. passport may travel to Hong Kong visa-free for up to 90 days.)
For more updated session info, please visit http://2016gcis.info/foreign-dentists/
About IACD:
The International Academy of Contemporary Dentistry (IACD) is the first professional dental association in the world with the mission of providing culturally specific services from bilingual and bicultural Asian dental professionals.
The IACD brings together researchers, practitioners, and industry professionals committed to advancing oral health among Asia-Pacific countries, and throughout the world.
The IACD Founding Chairman is a world-renowned periodontist Dr. P.D. Miller. He is the former President of the American Academy of Periodontology (AAP) and the proponent of the "A classification of marginal tissue recession". The IACD's Founding President is Dr. Jon B. Suzuki, the former Chairman of the American Dental Association (ADA) Scientific Council and current Chairman of the FDA Dental Products Panel. The President elect is Prof. Steve G.F. Shen, the Vice Chairman of Chinese Stomatological Association and Dean of Shanghai Jiao Tong University College of Stomatology.