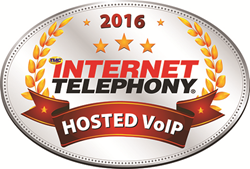 Smart Choice is widely recognized as the only nationwide provider with truly on-demand physical and remote maintenance.
New York, NY (PRWEB) October 18, 2016
Smart Choice Communications (SCC), a leading technology company, announced today that they have been named an INTERNET TELEPHONY Hosted VoIP Excellence Award winner for 2016.
"Smart Choice is proud and honored to be awarded the 2016 Internet Telephony Hosted VoIP Excellence Award for our Smart PBX solution," stated Jarrett Wolfe, Partner at SCC. "Along with our continued dedication to offering the most reliable hosted voice solutions, we want to ensure that each business is equipped with the necessary tools to successfully achieve their business goals."
Smart Choice is widely recognized as the only nationwide provider with truly on-demand physical and remote maintenance. From consultation to implementation, SCC Technicians work every step of the way to provide professional and personalized service for each customer. Even after installation is complete, SCC Certified Project Managers and Engineers consistently work to add and upgrade features for customer convenience–and are available 24x7x365 to offer full support.
Customers can enjoy the ability to fully customize their Smart PBX features to meet their exact business needs, instead of the typical "take it or leave it" packages offered by competitors. Users can also easily manage their Smart PBX features online with just a few clicks using SCC's advanced web portal, OmniVoice. Some standard Smart PBX features include SmartRing, Softphones and Voicemail to Email, giving users added mobility and flexibility. With enhanced features such as Call Recording, Call Queue Analytics and Web Receptionist, users are able to completely control and manage their call data directly within the portal as needed.
SCC's Smart PBX gives users the advantage of an advanced call routing system without the burden of managing the system themselves. Smart PBX can be run over TI, cable, EoC and fiber lines, and provides significantly more functionality and enhancements than a traditional PBX–at a fraction of the cost. As a cloud system, the PBX resides offsite saving customers the expenses associated with buying and upgrading telecom system hardware, and eliminates costly maintenance contracts.
"Congratulations to Smart Choice Communications for being honored with an INTERNET TELEPHONY Hosted VoIP Excellence Award for innovation in IP communications. Smart Choice has consistently demonstrated outstanding quality and has delivered exceptional solutions for its customers," stated Rich Tehrani, CEO, TMC.
The 2016 INTERNET TELEPHONY Hosted VoIP Excellence Award winners will be published in INTERNET TELEPHONY magazine.
About Smart Choice Communications
As a full-service ISP, Cloud PBX, SIP, Infrastructure Management, and worldwide Smart Hands services provider, SCC helps hundreds of thousands of enterprise users to grow and maintain their businesses with zero downtime and cutover care. Our U.S.-based engineering team watches over your network 24/7/365 using our superior standards to ensure you have 100% uptime.
About INTERNET TELEPHONY magazine
INTERNET TELEPHONY magazine has been the IP Communications Authority since 1998™. Beginning with the first issue in February of 1998, INTERNET TELEPHONY has been providing unbiased views of the complicated converged communications space. INTERNET TELEPHONY offers rich content from solutions-focused editorial content to reviews on products and services from TMC Labs. INTERNET TELEPHONY magazine reaches more than 225,000 readers, including pass-along readers. For more information, please visit http://www.itmag.com.
About TMC
TMC is a global, integrated media company that supports clients' goals by building communities in print, online, and face to face. TMC publishes multiple magazines including Cloud Computing, IoT Evolution, Customer, and Internet Telephony. TMCnet is the leading source of news and articles for the communications and technology industries, and is read by as many as one million unique visitors monthly. TMC produces a variety of trade events, including ITEXPO, the world's leading business technology event, as well as industry events: Asterisk World; AstriCon; ChannelVision (CVx) Expo; DevCon5 - HTML5 & Mobile App Developer Conference; IoT Evolution Conference & Expo; IoT Evolution Developers Conference; MSP Expo; Real Time Web Communications and more.
For more information about TMC, visit http://www.tmcnet.com.