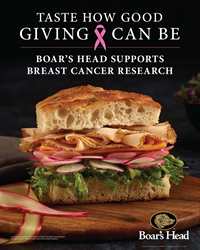 Bethpage, NY (PRWEB) October 18, 2016
October is Breast Cancer Awareness Month. According to the National Breast Cancer Foundation, 1 in 8 women will be diagnosed with breast cancer in her lifetime. The goal of Breast Cancer Awareness Month, founded in 1991 by breast cancer survivor Janelle Hail, is to educate women of the importance of early detection and the availability of support services. Read more about the National Breast Cancer Foundation here http://www.nationalbreastcancer.org/about-nbcf/nbcf-story.
This October, Boar's Head is demonstrating their support for the Breast Cancer Research Foundation by donating to breast cancer research with the help of two of their flagship delicatessen products, EverRoast® Oven Roasted Chicken Breast and Ovengold® Roasted Turkey Breast. Find both of these products in the Deli Department of any King Kullen location. Pink ribbons will be featured on the labels of both of these products throughout the month of October.
Both EverRoast® Oven Roasted Chicken Breast and Ovengold® Roasted Turkey Breast are certified by the American Heart Association as heart-healthy products. When selecting Boar's Head Premium meats and cheeses, these are the options to reach for. King Kullen's Director of Deli, Al Spinazzola, explains that Boar's Head meats are great for sandwiches, like this Turkey and Swiss Club (https://www.pinterest.com/pin/199917670938230692/), products such as Ovengold® Roasted Turkey Breast, they can be used for so much more.
Spinazzola suggests the following options:

In addition to these two products, all Boar's Head 8 oz. and 10 oz. Hummus containers feature temporary packaging with pink lids and labels, sharing the brand's commitment to supporting Breast Cancer Research. Participating varieties available in King Kullen's Deli Department include Traditional, Roasted Pine Nut, Roasted Garlic, Roasted Red Pepper, Fiery Chipotle, Southwest Style Black Bean, Tuscan Style White Bean, Fire Roasted Artichoke and Spinach and Kalamata Olive Tapenade.
Enjoy Boar's Head Hummus with crackers, chips and fresh vegetables like carrots and celery. Hummus is filling, and it is a great source of protein and fiber. Tracey Cullen, King Kullen's Director of Pricing and Social Media, suggests getting the most out of hummus by spreading it on a sandwich as a substitute for mayonnaise or mustard. It can also take the place in pasta salad, chicken salad, and tuna salad recipes. Try topping a chicken or fish dish with hummus to add some healthy flavor. Add creaminess to a soup with hummus like this Vegetable Hummus Soup (https://www.pinterest.com/pin/199917670938230742/).
About the Company:
Headquartered in Bethpage, New York, King Kullen Grocery Co., Inc. is recognized by the Smithsonian Institution as America's first supermarket. Michael J. Cullen opened the doors of King Kullen in 1930. Today, four generations later, King Kullen is still family owned and operated. It remains a leader in the supermarket industry. From that very first store in 1930, King Kullen today operates 34 supermarkets and five Wild by Nature stores across Long Island. In addition to traditional grocery, King Kullen features a large catering and prepared foods department, freshly-baked breads and sweets, and healthy and organic areas, with pharmacies and online shopping in many stores as well.