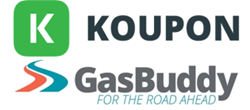 DALLAS and BOSTON (PRWEB) October 19, 2016
Koupon Media, the leading mobile offer platform and retail network in the industry, and GasBuddy, the technology company changing the way consumers find, purchase and save money on gasoline, today announced a partnership to deliver targeted, personalized mobile coupons to GasBuddy's community. In addition to finding the best deals on fuel, consumers will now have access to discounts and offers from their favorite brands and retailers right in the GasBuddy app, powered by Koupon Media.
"Encouraging customers to walk from the pump into the convenience store presents an immense opportunity which is why partnering with GasBuddy was such an obvious choice," said Bill Ogle, CEO of Koupon. "Marrying fuel discounts and offers with location targeting provides the ultimate platform for brands and retailers to drive sales while helping customers save money. We are excited to partner with GasBuddy and extend the life of customer savings from the pump to the convenience store."
GasBuddy will integrate Koupon's mobile platform directly into its app via a new "coupon" section where consumers can search for additional discounts and deals at nearby convenience store locations based on where they fill up their gas tanks. Brands and retailers participating in the Koupon Offer Network or using the Koupon Platform can select to have their offers displayed within the app and target consumers who are already on the path to purchase.
"Gas stations have been increasing their offering and are becoming more of a destination for items other than gas. The convenience store foodservice is a $61 billion industry, making it the second largest retail host foodservice category behind supermarkets," said Walt Doyle, CEO of GasBuddy. "We found that GasBuddy users convert at a 6 percent higher rate from canopy to store than the industry average. We're dedicated to continue working with retailers and partners like Koupon Media to increase that number and turn pump traffic into more store traffic."
According to the 2015 Retail Fuels Report from NACS, just 35 percent of consumers go in-store after purchasing gas at the same location, making this partnership a huge opportunity for both convenience stores and brand marketers.
About Koupon Media
Koupon Media was founded with the mission to help marketers deliver exceptional value to their customers.
Today Koupon's platform powers mobile offers for more than 43,000 retail locations and the world's largest CPG brands, delivering more than 500 million offers since its founding. In 2015 alone, the Koupon Platform drove over 10 million store trips leading to $100 million in value for brands and retailers.
About GasBuddy
GasBuddy is the technology company changing the way more than 60 million consumers find, purchase, and save money on gasoline. Founded in 2000, the original GasBuddy website was a pioneer in crowdsourced information, leveraging technology, big data, and a passionate community that now connects more than 60 million users with real-time, accurate fuel pricing information as well as reliable reviews of gas station amenities and services. The app and website have the most accurate and real-time fuel prices at over 140,000 unique stations in the United States, Canada, and Australia and is the most comprehensive money-saving companion while on the road. GasBuddy is available on all mobile platforms. For more information visit http://www.gasbuddy.com.
###
Contacts:
Katy Green
SHIFT Communications for Koupon Media
kgreen(at)shiftcomm.com
415.591.8437
Allison Mac
GasBuddy
amac(at)gasbuddy.com
626.383.8371