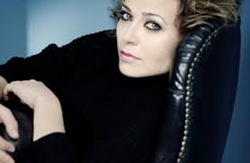 Mira represents all of the core values of the Pico Union Project: art, free expression and cultural exchange
(PRWEB) October 19, 2016
Media Contact:
Cassandra 818.760.1077
media(at)craignco(dot)com
On Thursday October 27 7:30-9 PM the PUP will host a 2016 Pre-Election Town Hall meeting moderated by Laurie Levinson, Professor Chair in Ethical Advocacy at Loyola Law School and Director of Project Innocence.
The evening will be an opportunity to learn from leading experts and politicians about issues that impact the Los Angeles community. Panelists for the evening include Betsy Butler - Director of the California Women's Law Center Larry Greenfield - founding Executive Director of the Reagan Legacy Foundation and Gemma Jimenez, Senior Field Deputy, Office of Representative Xavier Becerra of the 34th District.
"Our work at the Pico Union Project is aimed to elevate the principle to love your neighbor as yourself. It's imperative that we approach this election with heightened perspective on how key issues will impact our diverse range of fellow Angelinos," stated Dr. Zach Lasker, executive director.
The evening is free of charge but reservations are requested at http://www.picounionproject.org/townhall
The following Saturday evening, November 5th, at 8:00pm the Pico Union will host award winning entertainer Mira Awad. The evening will feature Israeli Palestinian entertainer Mira Awad in an intimate up close concert. Mira grew up in a politically active family and is considered one of Israel's leading artists and social activists.
Mira has collaborated with various artists from around the world such as Andrea Bocelli, Idan Reichel, and Achinoam Nini, with whom she represented Israel at the 2009 Eurovision song contest. "We are excited to welcome back Mira to the PUP," said Craig Taubman, PUP Founder. "Mira represents all of the core values of the Pico Union Project: art, free expression and cultural exchange."
The evening will include a special performance by BedouinX, recognized as one of the leading local middle eastern bands. Come for the music, stay for the magic… leave with a renewed spirit. Tickets are available at http://www.picounionproject.org/mira
This event is co-sponsored by Americans for Peace Now, UCLA Mickey Katz Chair of Jewish Music, and the Y&S Nazarian Center for Israel Studies
ABOUT PICO UNION
Originally built by Sinai Temple in 1909, the Pico Union is the oldest synagogue building in Los Angeles. The Pico Union Project is a multi-faith cultural arts center dedicated to the Jewish principle to "love your neighbor as yourself." We elevate this teaching into practice by bringing diverse cultures together through song, story, art, food and prayer. We partner with like-minded organizations and community leaders to help reinvigorate our neighborhood in downtown Los Angeles reflecting the Jewish value to be a light to all nations. http://www.picounionproject.org