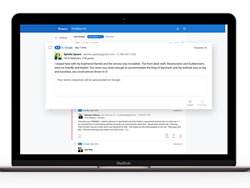 With the new BirdEye Google API integration, businesses can get instant Google review alerts and respond to reviews within the BirdEye dashboard.
Sunnyvale, CA (PRWEB) October 19, 2016
Customer experience and business reputation leader BirdEye today announced its integration with Google (Google My Business API v3.1) to enable real-time notifications for new Google reviews. Before this update, businesses would receive review alerts a few hours after a review was posted, but now, businesses receive review alerts the instant they are posted on Google. BirdEye's Google integration also means that businesses can respond to Google reviews within the BirdEye dashboard. These responses get auto-posted on Google. This launch makes BirdEye the first enterprise platform with full real-time Google integration.
BirdEye's Google integration gives businesses unprecedented customer engagement capabilities. With the ability to monitor and respond directly to Google reviews, in-moment, from one dashboard, and get new reviews at each point of customer journey, businesses have greater control over both customer experience and online reputation. Customer experience drives retention and online reputation drives customer acquisition.
Watch a quick video on the BirdEye Google API integration
Due to their ongoing collaboration with Google, BirdEye launched this new feature in-sync with Google's API release. This latest integration closes the loop between online feedback and customer experience. Instant review alerts ensure no customer comment is overlooked, and real-time response enables support teams to address customer issues before they escalate. By facilitating real-time dialogue between business and customer, the BirdEye platform lets businesses leverage Google reviews to immediately improve customer experience at critical customer journey touchpoints .
"As customer conversations increasingly accelerate, the tools to engage with them, in real-time, must evolve," says Neeraj Gupta, COO at BirdEye. "At BirdEye, we provide businesses with the latest technologies to monitor, collect, manage and address customer feedback, and our integrations with innovative platforms like Google makes this possible."
About BirdEye: BirdEye is a SaaS platform that reimagines the way customer feedback is used to acquire and retain connected customers by closing the loop between reputation marketing and customer experience. The BirdEye platform enables businesses to get new reviews and captures existing customer sentiment from review sites, social media, Net Promoter Scores, and support cases in real-time. BirdEye converts all feedback into actionable insights so businesses can engage in every step of the customer journey, establish a positive online presence, and benchmark performance across locations and against competitors. In today's reputation economy, BirdEye provides the eyes, ears and algorithms necessary to create a standout customer experience that pleases a consumer society reliant on instant gratification. BirdEye platform is trusted by 10,000+ businesses and prominent F1000 enterprises. BirdEye was founded in 2012 by Google, Yahoo, Amazon alumni and backed by Silicon Valley's who incl. Trinity ventures, Salesforce founder Marc Benioff and Yahoo co-founder Jerry Yang.
Contact: Helen Irias, pr(at)birdeye(dot)com
Phone # 1-800-561-3357