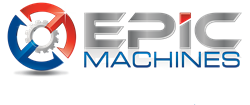 San Francisco, CA (PRWEB) October 19, 2016
Epic Machines announced today that it has been ranked number 23 (with 267.8% revenue growth from 2013 to 2015) by the San Francisco Business Times on the 25th annual "Fastest Growing Private Companies in the Bay Area" list, an exclusive ranking of the region's fastest growing private companies; one of the most important segments of the local economy. The winners and rankings were unveiled at an awards gala on October 13th, 2016 at the Four Seasons San Francisco. To view the complete list visit: http://bizj.us/1omzdw.
The companies on this year's list ranked between 58.9 percent and 2,786.5 percent growth. Companies are ranked by percentage of revenue growth increase between 2013 and 2015. Eligible companies were required to have at least $200,000 in revenue in 2013 and be privately held and headquartered in the counties covered by the Business Times — San Francisco, Alameda, San Mateo, Contra Costa and Marin, plus Palo Alto.
Epic Machines provides creative, security-focused and data center technology solutions to hundreds of organizations across Northern California.
"Our region is renowned as a hub for innovation and as an ecosystem that fosters growth companies," said Mary Huss, Publisher of the San Francisco Business Times. She continued, "Epic Machines, along with all of the companies on the list deserve special recognition because they fuel our regional economy."
"We are honored to be ranked among the fastest and most innovative companies in the Bay Area," said Dave Gottesman, CEO of Epic Machines. "I credit our growth to our team for being obsessively committed to our clients. I am glad to see that the market agrees with our fiercely customer-centric approach," added Gottesman.
In addition to the San Francisco Business Times award, Epic Machines was ranked 8th in North America and 1st in California while being named to The Channel Company's "2016 ® Fast Growth 150" list and The Channel Company's exclusive "2015 CRN® Next-Gen 250" list, in August of 2015. In early 2016, Epic Machines received top honors at The 2016 Splunk Global Partner Awards, being honored with The Rookie of the Year Award, as a first year Splunk partner, who rose quickly through the tiers and requirements of the Splunk Partner+ Program, overachieving on sales and technical certifications, as well as creating and growing a thriving Splunk business for their organization.
About Epic Machines
Epic Machines uniquely challenges the traditional technology market place ecosystem bringing brilliant business ideas to life, assuring mission critical initiatives succeed, through end-to-end technology manipulation. An Epic Machines designed system is superior, creative, secure and customized to precisely map to your business requirements, so your business lives on and prospers. http://www.epicmachines.com 877-EPIC-778.
About San Francisco Business Times
The San Francisco Business Times is the #1 print and online source for Bay Area business news and information on the most successful people, companies and transactions in the region. Every Friday, the Business Times arrives with an in-depth lineup of breaking local news stories, business profiles and valuable industry rankings. From technology and sustainability to small business, biotech, hospitality, real estate and banking, the Business Times covers the most relevant and timely topics for the Bay Area business community. SanFranciscoBusinessTimes.com takes the Business Times brand known for its insight, analysis and high journalistic standards and extends it to the Internet. Thousands of established and up and coming executives visit SanFranciscoBusinessTimes.com every day looking for the information they need to do Business in the Bay Area.