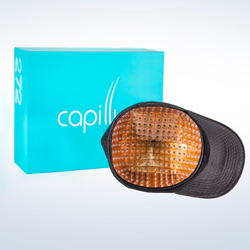 The beauty of the Capillus® system is there are no side effects
San Francisco, Calif. (PRWEB) October 19, 2016
Dr. Tom Rosanelli, seasoned hair loss expert based out of San Francisco, is proudly offering his patients low-level laser therapy for hair loss with the Capillus272 Pro™ device. The FDA-cleared Capillus272 Pro™ is a discreet, on-the-go laser cap used to combat androgenetic alopecia. In independent clinical trials, low-level laser therapy with Capillus® was proven to increase hair count by an average of 51 percent in active study participants.
This at-home laser cap includes 272 laser diodes – more than any other device on the market and providing it with the most coverage than any other product in its class.
Because hair sheds naturally every day, dormant follicles that fail to re-enter the growth stage are a chief source of hair loss. Low-level laser therapy (LLLT) helps to increase the blood flow to the scalp, effectively stimulating dormant hair follicles. Patients are left with increased strands and a thicker, handsome head of hair.
"The beauty of the Capillus® system is there are no side effects," Dr. Rosanelli said. "Patients who are more concerned about hair loss, but who don't want to use a drug or a topical treatment that they have to apply every night, can use this system and get excellent results."
Because hair loss treatment is an ongoing process, Dr. Rosanelli stresses the importance of regular, dedicated use. With the Capillus272 Pro™, treatment time is just 30 minutes every other day. Because Capillus® is portable, undergoing hair loss treatment while running errands or working on the computer is hassle-free.
"This system makes it very easy to be compliant," he said.
Rosanelli Medical Associates operates out of several locations, including its main office in San Francisco. Other locations include Walnut Creek, Honolulu, and the San Jose area. Dr. Rosanelli has thirty years of Cosmetic Surgery and Hair Restoration experience. After receiving his medical degree from Georgetown University School of Medicine, Dr. Rosanelli went on to receive surgical training in San Francisco. He spent two years training in hair restoration and was a leader in the earliest micro-grafting and mega training sessions.
Today, Dr. Rosanelli practices his expertise full-time in the Bay Area. He currently stands as a member of the American Medical Association. Among his many accolades, Dr. Rosanelli is a founder of the International Society of Hair Restoration Surgery and former president of the American Society of Hair Restoration Surgery. Dr. Rosanelli is also Board Certified by the American Board of Hair Restoration.
For more information on Dr. Rosanelli and his support of the Capillus272 Pro™, visit the Rosanelli Medical Associates website or call 800-743-4247. For more information about Capillus, visit http://www.capillus.com.