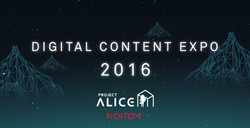 "At our core, we are hardware developers building tools for creative content makers."
Tokyo, Japan (PRWEB) October 20, 2016
Noitom, the world leader in motion capture technology, is presenting several of its most groundbreaking products at the Digital Content EXPO taking place in Tokyo at the National Museum of Emerging Science and Innovation (Miraikan) from October 27-30.
Already a major player in the motion capture and VR arenas after launching their $1,500, camera-less mocap system Perception Neuron in 2014, Noitom will have a strong presence at this year's expo where they will be showcasing at three distinct booths. The company, whose name is the word 'motion' spelled in reverse, will be giving attendees a peek at some of their their pioneering products. The individual Noitom booths will be showing:
Perception Neuron: Kigurumi Live Animator, also known as KiLA; a live cartoon program that can instantly bring Anime-style characters to life is coupled with a full broadcast switcher designed on UNITY. The booth will also include an HTC Vive Station using custom Perception Neuron demos and demos from winners of the 2016 All Japan VR Hackathon.
Project Alice: This multi-faceted platform offers clients working in various industries a complete simulation and virtual training solution that delivers high quality immersive, mixed reality environments. Being shown for the first time publicly, The Last Stand, a demo at the Project Alice booth, features a fully immersive space shooter where up to four players battle hordes of space creatures as they try to defend their base. Players can interact with real world physical objects that alter the way the game is played in virtual reality.
Noitom Biomotion: This section will feature Noitom's most innovative sports and health-related biometric technology including mySwing, the only wireless, full-body motion capture, professional golf teaching tool. Also featured in this booth will be the Noitom Smart Knee Brace, designed for the elderly or those with joint injuries as a way to measure daily activity with continuous and long-term data acquisition, or for use as a method to conduct in-home exercise therapy with real-time motion analysis and feedback.
"Digital Content 2016 is the perfect setting to showcase all of Noitom's cutting edge technology," says Roch Nakajima, VP of International Marketing for Noitom. "At our core, we are hardware developers building tools for creative content makers. Japan, as one the most active hubs on this global digital scene, remains a top priority in our strategy to develop exclusive creative partnerships and expand our market."
The DC EXPO will be introducing the many possibilities available with Noitom's technologies to researchers, businesses and individual creators of digital content alongside cutting-edge technologies from around the world. During the conference, Noitom's CTO, Dr. Tristan Dai, will speak on Creative Immersive VR Content for B2B where he will discuss the capabilities available for connecting with audiences with virtual reality.
DC EXPO takes place October 27-30 at The National Museum of Emerging Science and Innovation (Miraikan). Admission is free. Conference hours are from 10 am to 5 pm daily. Noitom will be located at Booths C10, C11 and C18. Dr. Tristan Dai will speak on Friday, October 28 at 3;15 pm inside Miraikan Hall 7F. For further information about DC EXPO 2016, please visit https://www.dcexpo.jp/en/.
To learn more about Noitom, please visit noitom.com. For more on Noitom's Perception Neuron motion capture system, visit neuronmocap.com.
Founded in 2011, Noitom Ltd. works with a team of dedicated engineers who develop world-class motion capture technology for consumer and industrial markets through the integration of MEMS sensors, pattern recognition, human kinetics and wireless transmission. Noitom is an international leader in innovative technology for use in animation, film, medical applications, robotics and gaming. Noitom is headquartered in Beijing with affiliate offices in Shenzhen. For further information about Noitom and its services, please visit, http://www.noitom.com. For general inquiries, please email, info(at)noitom.com.