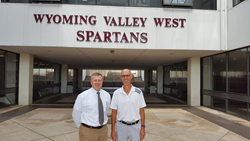 Wyoming Valley West's advocacy in the subject area of brain injury for teachers is innovative and ahead of the times.
Plymouth, PA (PRWEB) October 21, 2016
Wyoming Valley West High School recently held a teacher in service for nearly 100 administrators, teachers and staff. The purpose of the in service was to educate them about concussions and how they can assist students in recovering from their mild traumatic brain injuries. Fred Kuscavage, Wyoming Valley West's Head Athletic Trainer and a ConcussionWise™ Instructor led the presentation. Greg Janik, King's College Professor and Athletic Trainer and a member of the Pennsylvania's Traumatic Brain Injury (TBI) Advisory Board also helped to deliver the message.
Wyoming Valley West Principal David Novrocki reached out to Kuscavage to organize a concussion presentation so all teachers would have the same basic understanding about concussions. Novrocki recognized the importance of having a knowledge of concussions with more students reporting them and requiring accommodations in the classroom. The ConcussionWise™ program was used to educate the group which is the identical program used to annually train coaches on concussions.
Janik stated that "Wyoming Valley West's advocacy in the subject area of brain injury for teachers is innovative and ahead of the times as current concussion based policies and protocols are generally required for students participating in sports and less frequently involves the teachers." Further Janik said "the TBI Advisory Board was recently asked to research best practices and procedures for schools in regards to brain injuries that are non-sports related such as motor vehicle accident or falls. The idea is that not all concussions occur in sporting events or competitions. Therefore school districts would benefit from having policies and resources that provide a concussion overview, education, training, to school staff and personnel (e.g. teachers, nurses, administration) to aid with appropriate screenings and management for head injuries so that each student is provided necessary services both medically and academically."
The ConcussionWise™ program is part of a family of online concussion education courses. These programs have been peer-reviewed and are consistent with the latest science and practical applications regarding the prevention and management of concussion. All of the ConcussionWise™ Pennsylvania online programs can be found here http://www.concussionwise.com/pennsylvania
Currently, via a grant through the PA Department of Health, concussion educational programs can be presented for free in communities around Pennsylvania. The Pennsylvania Athletic Trainers' Society (PATS) can utilize their trained ConcussionWise™ Instructors (CWI) from across the Commonwealth to increase the concussion knowledge, particularly in programs serving young children. The program utilizes the Pennsylvania Safety in Youth Sports Act (PA's concussion law) approved ConcussionWise™ Pennsylvania training program. The live program generally lasts about 60 minutes and can be presented to any size audience. All participants of the ConcussionWise™ Pennsylvania training will be able to receive a certificate of completion and be placed on the ConcussionWise™ registry. To set up a local concussion education in your community please contact PATS at secretary@gopats.org
For more information regarding this topic or to schedule an interview with PATS President Gaetano Sanchioli, MS, LAT, ATC, PES (president(at)gopats.org), please contact Linda Mazzoli, MS, LAT, ATC, PATS Executive Director at patsexecutivedirection(at)gopats.org.
The Pennsylvania Athletic Trainers' Society, Inc. is a progressive organization of licensed health care professionals who work under the direction of a licensed physician. Our society continues to increase public awareness and education regarding Athletic Trainers and the Athletic Training profession while serving as the premier source of information for public safety, injury and illness prevention, early intervention, patient care, and healthcare delivery for the physically active in the Commonwealth.
"The Keystone to a Healthy and Physically Active Life"