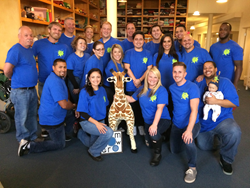 Boston, MA (PRWEB) October 21, 2016
Gables Residential has been giving back to its communities in many ways around the country. One of the most significant ways has taken place over the past 16 years by dedicating a day where all associates come together in their respective regions to focus on giving back to a worthy cause. Gables Day encompasses a full day in each region throughout the fall where approximately 1,000 associates come together to volunteer their time and share in the experience of this special day. Since 2000, Gables Day has resulted in contributions of over $1.2 million in goods and services and approximately 125,000 hours of labor and dedication by Gables associates.
In Boston, Gables Day recently took place at Room to Grow, a nonprofit organization dedicated to enriching the lives of babies born into poverty throughout their critical first three years of development. In conjunction with many strategic partners and their respective donations, the day encompassed providing parents with a unique combination of social work support and baby essentials including clothing, books, educational toys and baby equipment. Gables spent the day helping to organize, sort, manage and distribute newly donated items to those in need.
Patricia Hunter, Inventory and Volunteer Coordinator for Room to Grow, stated, "Gables' participation has directly impacted the success of our program. We are confident that with their help, we can truly help vulnerable children thrive. Thank you and I hope to have you all volunteer with us again!"
"This was our second year assisting Room to Grow for Gables Day. This organization is dedicated to such a worthy cause, taking care of babies born into poverty with nowhere else to go and no one else to help them. It was awesome to see our Boston team come together to support this organization and enrich the lives of the children that participate in the program," said Tim Hutchinson, Area Vice President with Gables Residential.
About Gables Residential
Gables Residential is an award-winning, vertically integrated, real estate company and privately held REIT specializing in the development, construction, ownership, acquisition, financing and management of multifamily and mixed-use communities. Gables Residential owns, develops and manages communities in high-growth U.S. markets such as Atlanta, Austin, Boston, Dallas, Denver, Houston, South Florida, Southern California and metropolitan Washington, D.C. Gables also provides third party management services in the New York, Baltimore, Frederick, Tampa, Phoenix, Seattle, Charlotte, Central and North Florida markets.
Gables manages over 31,000 apartment homes and approximately 550,000 square feet of retail space and has received national recognition for excellence in development, construction, management, sales, marketing, learning and development, benefits and corporate accommodations. These achievements reflect the impact of our experienced and dedicated team members, our superior knowledge of the markets served, and our expertise in development and management.