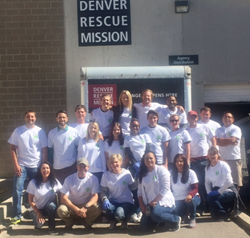 Denver, CO (PRWEB) October 27, 2016
Gables Residential has been giving back to its communities in many ways around the country. One of the most significant ways has taken place over the past 16 years by dedicating a day where all associates come together in their respective regions to focus on giving back to a worthy cause. Gables Day encompasses a full day in each region throughout the fall where approximately 1,000 associates come together to volunteer their time and share in the experience of this special day. Since 2000, Gables Day has resulted in contributions of over $1.2 million in goods and services and approximately 125,000 hours of labor and dedication by Gables associates.
In Denver, Gables Day recently took place at the Denver Rescue Mission Outreach Center, the central warehouse and distribution location for the Mission. Families, single women, people with disabilities, and seniors in need of food, clothing, furniture, and household items find assistance at this location. Gables associates spent the day sorting and organizing the many donations received for use at the homeless shelter, soup kitchen, and crossroads transition living centers.
Bobby Bigsby, Warehouse Food Coordinator stated, "Denver is such a giving city. We normally see volunteers who come in out of obligation and that's not what we saw with Gables. Seeing how much fun your team was having today reignited a passion I thought had gone stale. It's easy to lose sight of how much of an impact your work has on the community when it becomes just work."
"We were very excited to volunteer with the Denver Rescue Mission Outreach Center for our Gables Day this year. Gables Day is a humbling and rewarding experience. I am so proud to see our Denver group embrace and promote our day of giving back to the community. It was a pleasure working with the Denver Rescue Mission Outreach Center. They made us feel like we were truly making a difference in people's lives," shared Anna Frenzel, Area Vice President for Gables Residential.
About Gables Residential
Gables Residential is an award-winning, vertically integrated, real estate company and privately held REIT specializing in the development, construction, ownership, acquisition, financing and management of multifamily and mixed-use communities. Gables Residential owns, develops and manages communities in high-growth U.S. markets such as Atlanta, Austin, Boston, Dallas, Denver, Houston, South Florida, Southern California and metropolitan Washington, D.C. Gables also provides third party management services in the New York, Baltimore, Frederick, Tampa, Phoenix, Seattle, Charlotte, Central and North Florida markets.
Gables manages over 31,000 apartment homes and approximately 550,000 square feet of retail space and has received national recognition for excellence in development, construction, management, sales, marketing, learning and development, benefits and corporate accommodations. These achievements reflect the impact of our experienced and dedicated team members, our superior knowledge of the markets served, and our expertise in development and management.