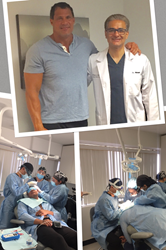 Being open about your procedure, just like Canseco has been during this process, helps take the mystery out of hair transplants for the public. - Parsa Mohebi, MD
Los Angeles, CA (PRWEB) October 20, 2016
Parsa Mohebi, founder of Parsa Mohebi Hair Restoration, knows that hair loss can happen to anyone regardless of their wealth or social status. His clientele includes many celebrities and the latest patient to join that list is former professional baseball player, Jose Canseco. Canseco, who played for multiple teams including Oakland and Boston, contacted Dr. Mohebi once he decided to do something about his increasing hair loss.
According to Dr. Mohebi, First Chairman of FUE Research Committee of the International Society of Hair Restoration, "Jose is no different than anybody else when it comes to hair loss. Age and genetics do not discriminate when it comes to thinning hair. Modern follicular unit extraction (FUE) techniques of hair restoration make the transplanting of hair without being detected by the general public even more advanced than in years past."
While many celebrities don't like to publicly admit they've undergone a hair transplant, Dr. Mohebi says that Canseco was not shy about admitting this fact to his fans. "Jose Canseco should be applauded for having the courage to publicly admit to his surgery. One of the issues with hair transplants is the public stigma that often goes with the procedure. Many people don't admit to having a transplant for fear of public ridicule. Being open about your procedure, just like Canseco has been during this process, helps take the mystery out of hair transplants for the public."
The final results from a hair transplant can take over a year before they are fully visible to the public. From the days immediately following the hair transplant procedure to the growth of the newly transplanted hair, Dr. Mohebi plans on documenting the entire story of Jose's hair transplant journey over the coming months on his website as well as his social media channels. Dr. Mohebi feels that sharing Canseco's story will inspire others to seek medical help for their hair loss.
About Parsa Mohebi Hair Restoration:
With offices in Beverly Hills and Encino, Parsa Mohebi Hair Restoration provides its patients with the most advanced hair restoration techniques currently available. The practice performs both FUE and FUT procedures to give patients the hair transplant results they desire.