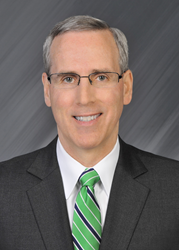 I am deeply grateful for this recognition from my peers acknowledging my contribution toward security resiliency in the industry.
Atlanta, GA (PRWEB) October 25, 2016
T.E.N., a technology and information security executive networking and relationship-marketing firm, announced today that Jim Routh, chief security officer for Aetna, will be honored as the 2016 ISE® Luminary Leadership Award Winner during the ISE® North America Leadership Summit and Awards on Nov. 9-10, 2016, at the Westin Michigan Avenue Hotel in Chicago, IL. Presented annually, the award celebrates the achievements of an outstanding leader and industry practitioner for his or her distinguished service, stewardship, and contributions in advancing the information security industry.
"Jim Routh is a significant contributor to the information security industry and is an outstanding model of leadership and mentorship for us all," said Marci McCarthy, CEO & president of T.E.N. "He continues to contribute to the development and success of Information Security through his creative innovation and tireless dedication, and is a prominent figure who showcases true security leadership. He is very deserving of this high honor."
Routh has consistently made the industry more resilient by sharing information in many forums, including a variety of different leadership positions within the FS-ISAC and, more recently, the NH-ISAC. Routh serves as a mentor for over 50 cyber security professionals and has advocated on behalf of women in cyber security for many years. In fact, over 60% of his direct reports are women, and 41% of all security employees at Aetna are women—far higher than the industry average. Routh is one of the most innovative cyber professionals, collaborating with startups and early-stage companies that use their breakthrough capabilities to constantly change the rules for cyber threat adversaries.
Routh has over 30 years of experience in information technology and information security as a practitioner, management consultant, and leader of technology, analytic, and information security functions for global firms. He has won several awards for his accomplishments in information and cyber security, including the Security Alliance Innovation Award, BITS Leadership Award, ISE® North America Executive of the Year: Healthcare Award, and ISE® Northeast Executive of the Year Award. He has been the Chairman of NH-ISAC since 2012; a Board Member of FS-ISAC for eight years; and Chairman of the FS-ISAC Products & Services Committee for four years. Routh also authored and contributed a chapter in the book, "Beautiful Security: Leading Security Experts Explain How They Think."
Upon learning of his ISE® Luminary Leadership Award win, Routh said: "I am deeply grateful for this recognition from my peers acknowledging my contribution toward security resiliency in the industry."
Craig Shumard, Principal of Shumard & Associates and retired CISO with CIGNA, will be honoring Jim Routh by presenting him with this award during the evening gala that is part of the ISE® North America Leadership Summit and Awards on November 9, 2016 at the Westin Michigan Ave in Chicago, IL. Event attendees can earn up to 9 CPEs for participating in the two-day leadership summit, which will offer dynamic presentations and engaging roundtable discussions—led by ISE® Alumni—highlighting a spectrum of the industry's most critical issues and innovative best practices. Read more online: http://ten-inc.com/ise/north_america/default.asp
Routh was selected by a group of previous ISE® Luminary Leadership Award winners, which include Ed Amoroso (2005), Stephen Katz (2006), Dr. C. Warren Axelrod (2007), Larry Brock (2009), Craig Shumard (2010), Rich Jackson (2011), Anne Kuhns (2012), Howard Schmidt (2013), William Murray (2014), and Bill Boni (2015).
About T.E.N.
T.E.N., a national technology and security executive networking organization, facilitates peer-to-peer relationships between top executives, industry visionaries and solutions providers. Nominated for numerous industry awards, T.E.N.'s executive leadership programs enable information exchange, collaboration and decision-making. Their flagship program, the nationally acclaimed Information Security Executive® (ISE®) of the Year Program Series and Awards, is the nation's largest leadership recognition and networking program for security professionals. Other offerings include T.E.N. Custom Programs and the ISE® Industry Expert Advisory Services, empowering IT solutions providers to gain access to highly credentialed IT business veterans' expertise. For more information, visit http://www.ten-inc.com.
About ISE® Award Program Series
For more than a decade, the Information Security Executive® (ISE®) of the Year Award Program Series has empowered security executives and their project teams to Connect, Collaborate and Celebrate. Recognized as the industry's most prestigious IT Security award program, it has become the most anticipated award program for security executives and their project teams. Winners have included executives and project teams from leading organizations such as PayPal, The American Red Cross, Microsoft, Allergan, U.S. Bank, AT&T, Comcast, USAA, T-Mobile, ADP, and Charles Schwab & Company.
Our distinguished ISE® Judges are past nominees representing a cross section of industries, including commercial, government, health care and academic sectors. For this reason, the ISE® Awards represent the best achievements of the year as evaluated by those regarded as the industry's most influential and successful thought leaders. Coupled with a one or two-day executive summit, the ISE® Awards are held across the country and Canada in major cities including Atlanta, Chicago, Dallas, New York, and San Francisco. The ISE® Awards Program Series has reached more than 10,000 executives across a broad range of industries and has been a major influence in executives' careers, knowledge sharing, and the development of peer-to-peer relationships.