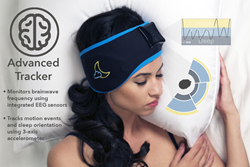 Sleep Shepherd is a brand that represents the Quantum name, putting focus not only on changing the face of technology but changing people's lives.
New York City, New York (PRWEB) November 01, 2016
According to the National Sleep Foundation, even though Americans sleep close to 8 hours a night, 35 percent report their sleep quality to be poor. The Sleep Shepherd Blue was created to help solve this problem plaguing millions of people. It is an innovative way to help people get a good night's rest while tracking sleep patterns and activity. It uses small speakers to play soft, binaural tones to gently lull users to sleep while monitoring EEG brainwaves and head orientation to collect and report data about the user's sleep schedule and habits. After raising $675,184 on Kickstarter and $864,084 on Indiegogo from 4,026 backers, it's easy to see that the world has been waiting for something like this.
According to Joe Griebel, Sleep Shepherd's Principle Design Engineer, "We are excited about this newfound partnership with Quantum Networks. The company is a world leading expert on omnichannel marketplaces and understands the proper way to showcase a brand. By partnering with Quantum, we are able to put our innovative product in front of a wider range of potential customers that could benefit from our technology."
The product is available via the Amazon.com product page as well as Quantum Networks' lifestyle site, Blucoil.com.
"Sleep Shepherd is a brand that represents the Quantum name, putting focus not only on changing the face of technology but changing people's lives," says Quantum Networks President Jonathan Goldman. Facilitator of the deal, Pinny Raitman, says, "The Sleep Shepherd Blue is what you get when superb innovation and intelligent technology intersect. This product is a REAL solution for a REAL problem."
About Quantum Networks, LLC:
Quantum Networks LLC, an Inc. 500 list member, is a New York City-based e-Commerce company. The company sells innovative products through the world's largest online marketplaces and its flagship website, blucoil.com. Navigating the nuances of online marketplaces is a complex process for brands. As experts in the field, for every brand it partners with, Quantum Networks effectively and efficiently executes the customized go-to-market strategy and with the brand's individual message in mind. Quantum Networks works closely with brands being funded through Kickstarter and Indiegogo, accelerating their launch and growth across various marketplaces.
About Sleep Shepherd, LLC:
Sleep Shepherd, LLC is a startup product design company located in Colorado Springs, Colorado. The company was originally started by Mechanical Engineering professor, Dr. Michael Larson, after watching his daughter struggle with sleep difficulties. The company has since expanded and, over the years, has developed numerous technologies in the field of sleep monitoring. These technologies have allowed Sleep Shepherd to bring to market the most advanced, at-home sleep monitoring device available. The Sleep Shepherd's patent-pending biofeedback system does more than just track your sleep, it works within the natural processes of your brain to help optimize your sleep cycle and train your brain to sleep more efficiently.