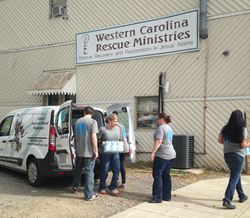 Asheville, NC (PRWEB) October 21, 2016
Aeroflow employees donated a variety of supplies such as toiletry items, socks, water, food, hairbrushes, first aid supplies and much more to the homeless community. These supplies will be donated to the WNC Rescue Ministry, which was founded with the goal of providing restoration programs to the homeless population. The ministry continues to care for the community by offering food, shelter and recovery programs to men, women and children in Western North Carolina.
"We want to work with local charities, like Western Carolina Rescue Ministries, to improve our community and help those who need it most, " said CEO Casey Hite.
On top of the donation of much-needed items, Aeroflow Healthcare employees also volunteered to help serve lunch at the WNC Rescue Ministries on Friday, October 21.
Aeroflow Healthcare was founded in 2001 in Asheville, North Carolina as a local oxygen supplier and has since become a durable medical equipment provider to patients nationwide. Patients and physicians are choosing Aeroflow as their provider for home oxygen, diagnostic sleep testing, CPAP equipment and supplies, nebulizers, mobility equipment, breast pumps, pediatric needs, catheters and more; click here to see a full list of products and services.
In 2015 and 2016, Aeroflow was named in Inc. 5000 magazine as one of the fastest growing private companies in America. Aeroflow is an accredited Medicare and Medicaid provider and accepts most commercial insurances. Product lines other than listed above provided include; urological, incontinence, diagnostic testing, Breastfeeding, pediatric, call center, and billing services. For any questions about Aeroflow Healthcare's donation and fundraising programs, or if you have interest in their services as a durable medical equipment supplier, you can visit http://www.aeroflowinc.com, or call (888) 345-1780.