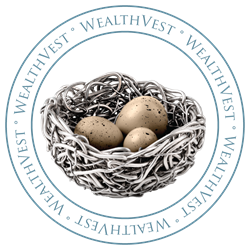 Bozeman, Montana (PRWEB) October 24, 2016
Mr. DeMale comes to WealthVest with a long track record of working with advisory firms to support the investment decision-making, research, and practice management functions. He joins us from Bluerock Capital Markets where he was a Senior Vice President, and has also worked as a Regional Director at Morningstar, Inc. as well as John Hancock, Calamos Investments, and Deutsche Bank.
Mr. DeMale is a CFA® Charterholder and member of the CFA Society of Chicago. He holds degrees in Economics and English from Vanderbilt University in Nashville, Tennessee. He also holds an MBA from DePaul University in Chicago, Illinois. He possesses his FINRA series 7 and 66.
WealthVest is a financial services distribution firm specializing in high-quality fixed and indexed insurance and retirement savings products from top carriers. WealthVest designs, markets, and distributes these essential products throughout the nation. WealthVest's focus is on creating product with the highest consumer value.
WealthVest was founded in 2009 by former CEO of American Skandia, Wade Dokken, and former CEO of Hartford Life Limited, Europe, Lincoln Collins. From the beginning, the company has provided financial professionals with exceptional field and phone support, effective sales training materials, thorough coaching, and the highest quality product.
The company possesses four sales teams: two field wholesaling teams dedicated to banks and broker-dealers, a field team dedicated to independent agents, and a Bozeman-based sales team focused on all agents and advisors. WealthVest has relationships with over 130 banks and broker-dealers around the United States, more than 100 committed professionals on their team, and over $1 billion in sales to date.