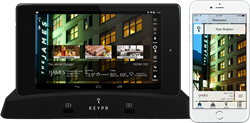 "We're proud to be at the forefront of this industry shift by partnering with KEYPR to offer our guests a seamless way to connect with the environments they're visiting while offering always present service." Carl Cohen, Denihan Chief Experience Officer
Los Angeles, CA (PRWEB) October 24, 2016
KEYPR, a technology company whose cloud-based solution integrates the hospitality experience for guests and management through mobile technology, announced today their partnership with Denihan Hospitality. Denihan, a leading owner/operator of boutique lifestyle hotels including The James, The Surrey, The Benjamin, the Carlton and the Affinia Hotel Collection has chosen to enhance their guest experience through the KEYPR platform which includes a custom mobile app, in-room tablets, keyless entry and back-office management software. The partnership will launch with The James brand.
KEYPR will be the brand standard launching first with the James Hotel Chicago in January 2017, followed by The James West Hollywood in March.
"Redefining luxury through guest-centric experiences is a strategic priority for us," said Carl Cohen, Denihan Chief Experience Officer. "As we grow our footprint with The James West Hollywood-Sunset opening next year, we're proud to be at the forefront of this industry shift by partnering with KEYPR to offer our guests a seamless way to connect with the environments they're visiting while offering always present service."
 
Hotel guests will be able to use their smartphones and in-room tablets to access hotel services, check-in and check-out, order in-room dining, access hotel information and communicate with hotel staff. Staff and management will be able to utilize the KEYPR system to streamline and track requests and generally improve the efficiency with which they interact with guests.
In addition to operational benefits, The James hotels will be able to leverage the powerful platform to promote their amenities, room upgrades, food and beverage, upcoming programs and to localize the experience for their guests through KEYPR's promotion, events and push notification features.
With 200 hotels currently under contract, KEYPR is seeing increased demand for sophisticated mobile solutions to support goals of increasing revenues and operational efficiency, reducing in-room expenses and generally enhancing the guest experience. With a proven track record, 100% guest engagement and no up-front cost to operators, the KEYPR solution is uniquely positioned to cater to these needs.
"Denihan is a leader in the industry and after careful consideration they selected KEYPR as we best met their needs. We look forward to working together with the Denihan team to make The James guest experience outstanding," said Nizar Allibhoy, CEO of KEYPR.
KEYPR offers hotels a completely customized, fully integrated system with which to manage guest requests and staff work flow replacing the need for multiple solutions. KEYPR's SaaS model offers the full system to hotel operators with no money upfront and zero CapEx.
ABOUT DENIHAN/ THE JAMES
In the realm of hospitality, The James Hotels, with ideally situated locations in Chicago and New York, and Los Angeles (opening 2017) are warmly modern, locally obsessed hotels that deliver a unique blend of exquisite hand-crafted design surrounded by liberated touches. The James' core guest-centric philosophy is evident in the properties' residential yet social environment and personal, always present service. For more information, follow The James Hotels at twitter.com/jameshotels, facebook.com/JamesHotels, instagram.com/jameshotels and pinterest.com/thejameshotels, in addition to jameshotels.com. Today's mobile travelers can experience service at their fingertips by visiting m.jameshotels.com.
KEYPR
KEYPR® is a cloud-based guest experience and management solution for hotels and luxury residences. With more than 200 properties currently under contract, KEYPR delivers an easy-to-use, personalized experience while creating new revenue opportunities and operational efficiencies for hotels. Guests can personalize their entertainment experience, access a directory of hotel services on-premises through an in-room tablet or the KEYPR app and use their mobile phone as a key through Keyless Entry. Hotel operators and residence managers enjoy an integrated dashboard (GEMS) that gives them visibility into guest needs throughout their stay, the ability to offer targeted services to high-value guests, and the ease of monitoring operational KPIs across multiple properties. KEYPR's team is comprised of Silicon Valley insiders and former executives from Hilton, Sony and Westmont Hospitality. Its industry partnerships include integrations with Opera, OpenHotel, WebRezPro and other PMS Providers. It has been featured in Hotel News, TNOOZ and Next Big Thing. For more information, visit: http://www.keypr.com.