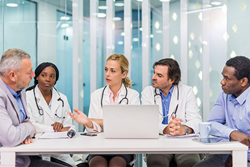 AppRev has developed the industry leading hospital pricing solution to help providers tackle pricing transparency.
Temple, Texas (PRWEB) October 26, 2016
AppRev will support White River Health System to develop comprehensive pricing strategies and will monitor the effectiveness of the implemented solution throughout the duration of the relationship. AppRev's cloud based solution assists White River Health System in understanding the market and financial impact of every possible pricing scenario.
"We are eager to begin what we hope will be a long-standing relationship with an outstanding hospital system," said Seth Avery, President and CEO of AppRev. "We look forward to utilizing Pricing Analytics to its full potential to aid White River Health System in optimizing its pricing strategies."
"After hearing Seth Avery speak about hospital pricing at an Arkansas meeting of the Healthcare Financial Management Association, I had a chance to visit with him and discuss his company's pricing solution," said White River Health System CFO, Phil Hacker. "Within a few weeks of using Pricing Analytics, we were able to review models using our customized data and objectives."
White River Health System (WRHS) is a not-for-profit, multi-facility healthcare organization serving residents of North Central Arkansas. The system includes two hospitals, rural health clinics, physician offices, and outpatient care centers. Our service area consists of a catchment area of 100,000 residents in ten counties. The flagship facility, White River Medical Center (WRMC) is a regional referral center located in Batesville, Arkansas. WRMC is 224-bed facility with more than 100 physicians representing 23 specialties. Stone County Medical Center (SCMC) is a state-of-the-art 25-bed critical access hospital in Mountain View, Arkansas. WRHS is committed to providing patient focused care, offering healthcare services based on community need and developing the medical community through physician recruitment and partnerships with educational institutions. For more information about WRHS, visit http://www.whiteriverhealthsystem.com.
AppRev is a privately held Healthcare Business Intelligence company based in Temple, Texas, providing services and technology to more than 80 hospitals throughout the United States and Bermuda. AppRev delivers results through services and technology that allow hospitals and clinics to improve revenue cycle performance. The company's solutions are provided via web delivered Service Supported Software™ and include Charge Accuracy, Charge Review, Denials Intelligence: an HFMA MAP Keys Compliant Solution, Pricing Analytics, CDM and DSH services. All AppRev solutions employ ongoing measurement of revenue cycle improvements and can be tailored to meet customer-specific requirements.
AppRev is a dedicated participant and sponsor of several state and regional HFMA chapters. President and CEO, Seth Avery, regularly speaks at HFMA conferences and presents webinars providing education on various healthcare finance topics. For more information and to visit with AppRev about their solutions, please join them at these upcoming events.