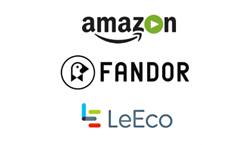 San Francisco, CA (PRWEB) October 24, 2016
Fandor, the streaming service with the largest library of independent movies, international features, shorts and documentaries on the greatest number of devices announced that Amazon Prime members can now access its video subscription service on Amazon Channels. Fandor also announced that it is partnering with leading global technology company LeEco™, which last week confirmed its North America launch date.
The move emphasizes Fandor and Amazon's commitment to providing exceptional content to a growing audience of film enthusiasts. The expansion will enable Fandor to reach tens of millions of Amazon Prime members by the end of 2016.
"We are extremely excited to be working with Amazon and to have Fandor included in the Amazon Channels offering," said Fandor CEO, Larry Aidem. "It's an excellent opportunity for us to bring a wide array of films not available anywhere else to new audiences."
Subscribe to Amazon Prime to start your free 1-week Fandor trial and get unlimited access to select Fandor content, a list of titles that exceeds 6,000 films including curated lists such as "Festival Favorites", "Must-see Shorts", and popular films such as Werner Herzog's Aguirre, the Wrath of God, burgeoning filmmaker Yorgos Lanthimos' Dogtooth, the Academy Award® winning film Ida, and the widely acclaimed The Girl with the Dragon Tattoo trilogy.
Amazon Video is available across many devices and platforms, including streaming media players and living room devices like PlayStation and Roku, as well as mobile devices, the Amazon Video app, Amazon Fire TV, Fire TV Stick, and Fire tablets, and online at Amazon.com/channels.
Fandor is also teaming up with visionary global technology company LeEco. The worldwide partnership begins with the highly anticipated U.S. launch of LeEco's revolutionary digital ecosystem, which makes its North American debut through LeEco's much-awarded and best-selling ecotvs™ and ecophones™ in the United States this October. The Fandor app will be preloaded on all LeEco ecotvs and all purchasers of LeEco ecotvs and ecophones will receive a free one-year subscription to Fandor.
LeEco General Manager of Content Acquisition, Jeff Briller, stated that, "As LeEco prepares to launch in the U.S. we are focused on aligning with forward-thinking content companies like Fandor that are not hindered by legacy practices that prevent traditional media companies from sharing in both rewards and risks. We're confident that Fandor will offer LeEco ecosystem users premium content."
Chief Executive Officer and LeEco founder, Jia Yueting, created LeEco's online video business and is the visionary behind the strategy of uniting seemingly disparate businesses, from consumer electronics to automobiles, around the "common horizontal" of content.
"Fandor's existing subscription business, its editorial legacy and success at creating and distributing short-form video and text content across a range of platforms make it ideally suited to partner with an innovator like LeEco," said Chris Kelly, Chairman of Fandor.
In staffing news, veteran HBO executive, Felice Oper, who joined Fandor in 2015, expands her role to include Chief Distribution Officer. Larry Aidem, Fandor's President and CEO stated that, "At HBO and Viacom in the 90's, I worked with a remarkable cadre of respected TMT executives affectionately referred to as 'recovering lawyers', one of which was Felice Oper. Then and now, she is deal-oriented, indefatigable, and emotionally intelligent while possessing a true understanding of the meaning of partnership. Having said that, Felice is not completely recovered. Like many of Fandor's senior staffers, she's an inveterate multi-tasker and will continue as General Counsel, overseeing legal and business affairs."