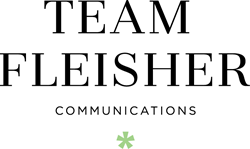 We never forget that the partnerships we form with our clients, and the results we deliver, are the keys to our success.
Columbus, Ohio (PRWEB) October 26, 2016
Each year Smart Business recognizes the top executives of the 50 smartest companies in Central Ohio for their ability to effectively build and lead successful organizations. Team Fleisher Communications is pleased to announce that its founder and CEO, Marcy Fleisher, has been selected as a 2016 recipient of this prestigious award. The 50 winners were announced at a special celebration at the Renaissance Columbus Hotel October 25.
"I am extremely honored to be recognized by Smart Business as a top executive of one of the area's 'smartest' companies," said Fleisher. "One of the reasons the firm has been so successful is that our team of well-qualified professionals has a deep expertise and vast experience in marketing and public relations. We understand that every client is unique, and work extremely hard to tailor our communications initiatives to meet specific goals and expectations. We never forget that the partnerships we form with our clients, and the results we deliver, are the keys to our success."
In 2003, two years after leaving an award-winning career in broadcast journalism that spanned several decades, Fleisher opened Team Fleisher Communications. Since that time, the firm has enjoyed tremendous growth in terms of the number of clients it serves, as well as steadily increasing revenues. The goal throughout the years has remained the same: to exceed expectations through a hands-on approach, so that every client has access to every team member. Team Fleisher offers a full range of public relations and communications services that include earned media, crisis management, media training, social media relations and content creation.
Over the last five years, Team Fleisher has been recognized for its exceptional public relations activities with numerous PRism and Diamond Awards. In addition, the agency has been named as a Top Public Relations Firm in Central Ohio.
Tweet This: @teamfleisher founder @fleish named to 2016 @Smart_Business Central Ohio Smart 50 List.
About Team Fleisher Communications
Team Fleisher Communications delivers outstanding communications solutions based upon decades of experience. We have a proven track record of securing results for organizations ranging from start-ups to Fortune 500 companies. As senior-level communicators and former journalists, we understand how to tell stories, pitch reporters, secure earned media, leverage coverage and provide the analytics to determine our impact. We work fast and efficiently to get the job done right. And we deliver results – always. For more information visit Teamfleisher.com.