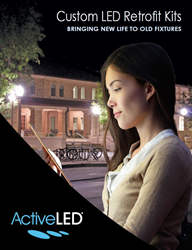 We recognize many property owners are very attached to the aesthetics of their existing fixtures.
Georgetown, Texas (PRWEB) October 25, 2016
Many government and commercial entities have a love/hate relationship with their lighting. It's not uncommon for a property owner to like their existing lighting fixtures for aesthetic, historical, or vintage reasons, but not for their light output, energy costs, or maintenance schedule. With a matching or better light output, LED technology that can save up to 90% in energy costs, and a 10 Year, No-Light-Loss Warranty, ActiveLED allows property owners to keep the fixtures they like and enjoy the benefits from state-of-the-art LED technology as well. READ BROCHURE
"We have an incredible team of engineers who not only think outside the box, but also have the knowledge to create LED fixtures with an expected lifetime of as many as 15 to 17 years," said Chad Randall, Vice President of Sales and Marketing for ActiveLED. "We have a lot of success retrofitting existing fixtures with custom LED retrofits throughout the country," Randall continued. "Most LED companies have made a business decision to stay away from the custom, LED fixture, retrofit market and focused primarily on creating new fixtures to replace older designs in the field. While this approach is also a significant portion of our business, we recognize many property owners are very attached to the aesthetics of their existing fixtures and are looking for ways to upgrade their fixture's light output and save on energy costs."
A Custom LED Retrofit Kit comprises the highest quality LEDs, a heat sink assembly and a light engine that includes the LED driver and surge suppression. Most designs are field installable, making for a simple, powerful fixture upgrade. CASE STUDY WITH 83% ENERGY SAVINGS
The primary requirement for a custom design is to send ActiveLED a physical sample of one of the fixtures to be retrofitted. A team of engineers will then study the fixture and design a Custom LED Retrofit Kit. Once the design is approved for quality and suitability for our 10 Year, No-Light-Loss Warranty, a sample of the retrofit is manufactured and sent out for installation and approval.
"Lighting is more than mere illumination. It also plays a huge role in the architecture and feel of a building or space. We're excited to offer the market this elegant solution to property owner's desires," Randall concluded.
About ActiveLED
ActiveLED, Inc., a division of Ringdale Industries, Inc., is an innovator of solid-state technology and U.S. manufacturer of commercial and industrial LED lighting fixtures. Founded in 2007, ActiveLED is headquartered in Georgetown, Texas, with offices in the United States, the United Kingdom, Japan, and Singapore. ActiveLED PRODUCTS