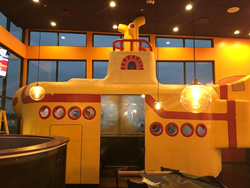 If you fancy the Fab Four, you will dig the 18' tall yellow submarine that you can actually dine in!
Lima, Ohio (PRWEB) October 31, 2016
Every Mellow is individually owned and operated. Mellow Mushroom Lima is owned by Norman and Jane Moser.
Greeting you at the door is a CD-scaled angler fish. Next, you'll notice iconic art of the late Sixties with a creative twist from Dreamscape Art & Design. They have found antiques and other uncommon oddities and turned them into out of this world chandeliers and shelves. There is also a vivacious Phyllis Diller mural that is simply electrifying and alludes to Lima's role in the locomotive and military tank industry. Don't forget to admire their Abbey Road-inspired panorama that has an intriguing backstory. If you fancy the Fab Four, you will dig the 18' tall yellow submarine that you can actually dine in! This submarine is outfitted with portholes that you can peek out for a righteous photo opportunity. Check out the "Magical Mystery Booth." It is a large, round booth equipped with a black light. Can't get any more Sixties than that! There are plenty of exotic hardwood art tables to pull up a chair to in their main dining room.
Guests can participate in an online tour of the art at this Mellow Mushroom by following the directions on the plaque at the front of the store. The online tour features a description of the artworks and artists who created the masterpieces specifically for this restaurant and connects guests with the artists' online portfolios.
Mellow mushroom serves up a selection of items extending from Pizza to Calzones, Hoagies, juicy Burgers and all kinds of other Munchies. If you're a veggie lover or are geared toward the Gluten Free, there are options for you as well! Fresh produce is delivered daily to ensure high quality products. The kids can find some treats on the interactive kids menu. Students coming down the street from University of Northwestern Ohio who want to shake off those post finals jitters can stop in for some relaxation and delicious food.
Guests can belly up to the bar that has an astounding craft beer selection. There will be 36 draft options of your choosing. The bar also opens into a large patio which will be used year-round. The outdoor seating is the perfect place to catch up with friends and family, while enjoying the skyline view and amazing sunsets. Bring the team right from the bases of Racer Field to dine together in Mellow Mushroom's private dining room that can fit up to 24 guests. This location will eventually host special events such as Pint Night and Team Trivia.
Mellow is more than just craft pizza and beer, there is also craft apparel from their own fashion line House of Shroom including T-shirts, cups, hats and comfortable loungewear. Selections from House of Shroom is available for purchase in store. The full collection is at your fingertips on their website http://www.Houseofshroom.com.
Mellow Mushroom is open Sunday thru Thursday from 11 a.m. to 10 p.m. and Friday and Saturday between 11 a.m. and Midnight.
For more information on this Mellow Mushroom location please visit the website at http://www.mellowmushroom.com/store/lima and like us on Facebook https://www.facebook.com/mellowmushroomlima
###
Mellow Mushroom Pizza Bakers was founded in 1974 in Atlanta, Georgia. This franchise, operated under Home-Grown Industries of Georgia, Inc., is headquartered in Atlanta, Georgia. For over 40 years, Mellow Mushroom Pizza Bakers has been serving up fresh, stone-baked pizzas to order in an eclectic, art-filled, and family-friendly environment. Each Mellow is locally owned and operated and provides a unique feel focused around great customer service and high-quality food.