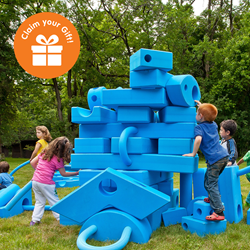 We purchased our blocks through a parent participation donation. They only pick so many projects to cover each semester. Knowing we'd receive your Gift of Play made them much more willing to help us out!
New York, NY (PRWEB) October 25, 2016
Imagination Playground, LLC, http://www.imaginationplayground.com, creators of the breakthrough play space concept that encourages child-directed, unstructured free play, announced today that in the past week, 28 more schools have accepted their Gift of Play—a cash gift that can be used towards the purchase of Imagination Playground's Big Blue Blocks. The company reports that so far in 2016, 309 schools have accepted the Gift, and based on positive feedback, the number should continue to grow.
The spirit behind Gift of Play is to lend a hand to schools that badly want but can't afford an Imagination Playground. This in turn is helping propel Imagination Playground's 2016 mission—to reach 3 million more children with creative play. So far in 2016, the company reports having reached 2,421,367 children at schools and family centers worldwide.
Imagination Playground's mission is motivated by research across multiple disciplines, that documents the importance of unstructured, creative play on whole child development. Block play in particular facilitates learning in a myriad of ways, including problem solving, mathematics, language development, and social skills, to name a few. Yet, despite the known benefits, unstructured play has been on a worldwide decline for the past 60 years. For schools, a major reason is lack of funding to provide the kind of play activities they desire for their children. Imagination Playground President and CEO David Krishock says this is precisely why Imagination Playground decided it was time to do their part by offering Gift of Play.
"Within this global climate of decreasing play, our goal is to increase it. We're 100% committed to helping our many friends at schools help their kids play, and our Gift of Play program demonstrates that commitment. The 309 schools we've helped so far this year translates into many thousands more kids playing, and we're determined and able to reach more," said Krishock.
Alamo City Elementary School in Tennessee is among the latest schools to accept the Gift of Play. Expressing excitement on behalf of the school, Ashley Haworth said, "We were so happy to receive the Gift of Play! We have an indoor room for recess and we were interested in giving our kids a way to get some physical activity inside. We liked that the blocks were soft and so there was no way they could get hurt and that lots of children could be playing at the same time."
Early Childhood Teacher Ashley Rogers at Annunciation Orthodox School in Houston said being promised the Gift of Play helped convince parents to provide further funding for their Blue Blocks. She explained, "We purchased our blocks through a parent participation donation. They only pick so many projects to cover each semester. Knowing we'd receive your Gift of Play made them much more willing to help us out! Our parents thought Imagination Playground was wonderful—they'd already seen it in action because our P.E. department uses it as well."
And sharing his enthusiasm for Imagination Playground on Twitter, Mark Fleming, School Administrator for Blackland Prairie Elementary School in Round Rock, TX said, "Love our Imagination Playground equipment for our students. Creative play develops many parts of the brain."
Schools and Family Centers interested in learning more about Imagination Playground and the Gift of Play program are encouraged to call 1-678-604-7466, email ContactUs(at)ImaginationPlayground(dot)org or visit http://www.imaginationplayground.com/promotions/gift-of-play.html
About Imagination Playground, LLC
Imagination Playground is a breakthrough play space concept developed to encourage child-directed, creative free play. The kind of play that experts say is critical to children's intellectual, social, physical and emotional development. Created by architect and designer David Rockwell and the Rockwell Group, Imagination Playground enables children to play, dream, build and explore endless possibilities. Imagination Playground finds its home in daycare centers, kindergartens, elementary schools, children's museums—and science, nature, discovery centers, camps, community centers, children's hospitals, hotels, public parks and more—in North America and over 60 countries overseas. For more information, visit http://www.imaginationplayground.com