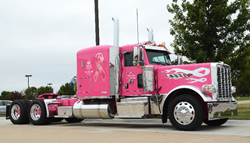 TLG Peterbilt is a long-time supporter of the American Cancer Society, and we're thrilled that we've had the opportunity to sponsor many events that raise funding to fight this terrible disease.
Springfield, Mo. (PRWEB) October 25, 2016
In a continued effort to give back to the community, The Larson Group (TLG), a distribution leader in Peterbilt products and services, customized a Peterbilt 389 to raise awareness of the need to fund the fight against breast cancer. The stunning pink paint job, complete with the pink ribbons well associated with the disease, grabs attention and reminds all who see the commercial truck that the cure for breast cancer is attainable—given public financial support for continued research.
The commercial truck service company TLG Peterbilt originally customized the truck to call attention to the Pink in the Park cancer fundraiser held at Hammons Field in Springfield, Mo. last year. The event was organized by the Breast Cancer Foundation of the Ozarks (BCFO) in partnership with the Springfield Cardinals. "As a sponsor of such an important event, we wanted to do everything we could to draw a big crowd, and parking our breast cancer awareness truck in front of the Springfield Cardinals stadium certainly helped pique public interest. The fundraiser was a big success," said TLG Corporate Marketing Manager Barbie Langston.
The breast cancer awareness truck has also been featured at other cancer fundraisers, including the Southwest Missouri Chapter's Cattle Baron's Ball, an annual event held in conjunction with the American Cancer Society. As a full service leasing company for commercial truck fleets, TLG Peterbilt serves many cattle farmers, making the Cattle Baron's Ball an excellent fit for the dealer group's continued efforts against cancer.
"We are long-time supporters of the American Cancer Society," said Langston, "and we're thrilled that we have had the opportunity to serve as a major sponsor of the Cattle Baron's Ball for several years now. The event is always a blast, and it goes a long way to fund crucial cancer research."
Today, the award-winning model 389, which is a heavy-duty Peterbilt sleeper, continues to honor those who have battled cancer. Recognizing the chance to fight breast cancer with every haul, Sparks Transport, a commercial cargo carrier headquartered in Lyons, Ind., purchased the truck from TLG and uses it regularly to transport goods across the country.
"After seeing this truck in person and witnessing the impact it has on fundraising for breast cancer research, we knew it would make a special addition to our fleet," stated Sparks Transport Vice President Brad McDonald.
Matt McDonald, Sparks Transport Head of Dispatch and Maintenance, added, "We didn't realize the magnitude of what it would evolve into. After only three weeks, we started getting calls from customers requesting service specifically from the pink Peterbilt 389."
Driver Terry Fish noted, "People are always taking pictures and giving me a thumbs up as I drive by. This truck is quickly becoming an icon. It is an honor and privilege to drive the Optimus Prime of breast cancer!"
For Fish, spreading awareness while driving the pink truck is a must. His father lost to cancer in 2009, and in 2010 his aunt fought breast cancer, ultimately winning her battle. Fish said his mother broke down in tears when she learned he was driving this truck. "The 389 is a head turner for a good cause, and it is stunning to see in person," he said.
About The Larson Group Peterbilt
Founded more than 25 years ago, TLG provides quality Peterbilt products and award-winning service to drivers and commercial fleet owners throughout the Midwest and much of the Southeast United States. At each of TLG's 18 Peterbilt facilities, customers will find highly trained and knowledgeable professionals who are ready to assist with all their commercial transportation needs. With facilities strategically located in Arkansas, Illinois, Indiana, Kentucky, Missouri, North Carolina, Ohio and South Carolina, TLG Peterbilt sells, services and inventories parts for the full lineup of Peterbilt trucks as well as all lines of trucks, trailers, buses and engines.
For more information about Peterbilt trucks or about The Larson Group or its involvement in the fight against cancer, visit TLGtrucks(dot)com or contact Barbie Langston at blangston(at)tlgtrucks(dot)com. To learn more about Sparks Transport, contact Thomas Sparks by phone at 812-384-5569 or by email at sparkstransportllc(at)gmail.com.