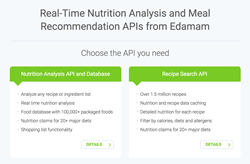 Our goal is to stimulate an ecosystem, which produces a wide range of data-powered food and nutrition services.
New York, NY (PRWEB) October 26, 2016
Edamam, a provider of value added nutrition data services to the food health and wellness industries, is re-launching its leading Nutrition Analysis and Recipe Search API solutions with a number of added features, including grocery store classification of foods for building shopping cart functionality and a Spanish language database of recipes. As part of the re-launch, the company is also making its basic API service available to early stage companies and developer teams at no cost.
"By making our APIs free to developers and start-ups, we aim to remove an obstacle for a number of useful applications to be developed. We believe our customers have to be given a chance to build great products even if they cannot afford our full service," commented Victor Penev, Edamam's CEO and Founder.
The Nutrition Analysis API leverages Edamam's proprietary natural language technology to deliver real time nutrition breakdown of any food, recipe or meal. The Recipe Search API is built on top of a database of 1.5 million nutritionally tagged and analyzed recipes and powers meal recommendation for businesses whose clients actively manage their nutrition intake for health or lifestyle reasons. The new features added by Edamam are in direct response to customer demand.
Edamam will work with companies and teams that sign up for either API to assess their needs and provide the best solutions possible. Enterprise clients will be charged for Edamam's API services based on this assessment, while young start ups will be given access to the core features of the APIs until they have a successful product in the marketplace.
"Our goal is to stimulate an ecosystem, which produces a wide range of data-powered food and nutrition services and ultimately, help people make smarter food choices and live healthier and happier lives." added Victor Penev.
Among the enterprise customers already using Edamam's API are General Mills, Epicurious, The New York Times, Random House, Vivanda and ZeroCater.
About Edamam
Edamam organizes the world's food knowledge and provides nutrition data services and value-added solutions to health, wellness and food businesses. Using a proprietary semantic technology platform, it delivers real-time nutrition analysis and diet recommendations via APIs. Edamam's technology helps customers answer for their clients the perennial question: "What should I eat?"
Edamam's partners and clients include The New York Times, Epicurious, Nestle, General Mills, Samsung and Random House.
For more information, please visit http://www.edamam.com or developer.edamam.com.
Media contact:
Victor Penev
victor(at)edamam.com
+1.646.378.8317