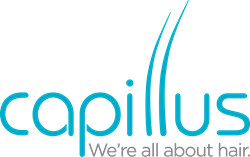 We now have breakthrough technology utilizing laser light energy to reduce male and female pattern baldness
Phoenix, Arizona (PRWEB) October 25, 2016
The clinical and esthetic treatment experts at Ahwatukee Skin & Laser are now helping patients undergo a minimally invasive, effective fight against hair loss with the Capillus272 Pro™ laser caps. As Capillus® physicians, the experts at Ahwatukee Skin & Laser guide patients through the low-level laser therapy (LLLT) process, starting with a consultation to diagnose hair loss and a clear definition of the best treatment method for each individual.
The Capillus272 Pro™ is an especially effective and favorable LLLT device. In clinical trials, Capillus® laser caps were shown to increase hair count by an average of 51 percent in active study participants. And, the Capillus272 Pro™ is cleared by the FDA for the treatment of hair loss in men and women. With 272 laser diodes, this product offers the most laser coverage available in its category. Although powerful, these lasers are cool to the touch, making treatment easy and pain-free.
"Up until recently, there were limited effective treatment options for hair loss that did not require surgical intervention," said Sarah Neumann, MMS-PA-C, Physician Assistant. "We now have breakthrough technology utilizing laser light energy to reduce male and female pattern baldness and regrow hair that has been traumatized through auto immune disease stress, surgery or other medical conditions."
Because the laser cap insert covers the entire scalp, no follicle is left untreated throughout the recommended 30-minute treatment time. During use, released laser light boosts cellular activity, a process called phototherapy, inside dormant follicles. Then, increased blood flow draws oxygen and nutrients back to the scalp where they are used to create healthier hairs. The average person loses between 50 to 100 strands per day, but without the proper nutrients and a hospitable environment, hair follicles fail to replace lost strands. With Capillus®, patients can revert back to a normal hair growth process and reap the handsome rewards.
Unlike other hair loss procedures and messy methods, the Capillus272 Pro™ laser cap entails a discreet and hassle-free routine. The device is both portable and battery-operated, freeing patients from the confines of a doctor's office. Even other at-home LLLT products, including laser combs, lack the same level of convenience given they require a hands-on operation and offer limited scalp coverage.
LLLT is particularly beneficial for women who are not candidates for hair loss surgery due to androgenetic alopecia. Unlike male pattern baldness, also a classification of androgenetic alopecia, female pattern baldness occurs unsystematically across the scalp. Finding a donor site and implanting grafts is more complicated and often not the recommended route for women. Luckily, laser hair therapy has been shown to be effective in fighting diffuse patterns of thinning.
With the Capillus272 Pro™, patients develop a sense of autonomy and control over their hair loss journey while receiving guidance from a medical professional. Among the 12-person team at Ahwatukee Skin & Laser, patients are guided by two board-certified Dermatologists, two Physician Assistants and a Certified Laser Instructor.
To learn more about the Capillus272 Pro™ through Ahwatukee Skin & Laser, call the office at 480-704-7546 or read more online at http://www.ahwatukeeskincare.com. For more information about Capillus, visit http://www.capillus.com.