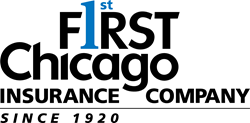 FCIC is an established, regional insurance carrier that has been providing dependable auto insurance coverage and service to its policy holders since 1920.
Bedford Park, IL (PRWEB) October 25, 2016
First Chicago Insurance Company (FCIC) is proud to announce that they now include the Missouri Maverick Personal Auto Program in their list of available products. Already available in Illinois, Indiana and Wisconsin, First Chicago Insurance Company's Maverick Auto Program is a non-credit rated program, which is designed to provide consumers with a wider choice of auto products tailored to meet their individual budget.
James P. Hallberg, who handles First Chicago's marketing though their affiliated company, First Chicago Insurance Agency, added, "We believe that Missouri will be another state that will be receptive to First Chicago's high level commitment to service and quality insurance products. Our distribution, though the independent agency system, enables consumers to rely on trained, professional agencies to consult and advise them on their important insurance buying decisions."
Attractive features of the Missouri Maverick Auto Program include a number of customization options so clients can obtain the insurance that is right for their particular needs. The company also prides itself on affordability of insurance policies they can offer. Customers of the Missouri Maverick Auto Program may qualify for discounted rating using options that can include multi-car discounts, good driving record discounts, home ownership discounts, full policy term payment discounts and insurance renewal discounts. Customers will also benefit from the ability to select Non-Owners Policy coverage.
Michael Rosenstein, President of FCIC shared, "FCIC is an established, regional insurance carrier that has been providing dependable auto insurance coverage and service to its policy holders since 1920. We have built a reputation as a respected insurance provider of personal auto, commercial auto, and general liability insurance products. FCIC views this expansion into the Missouri market as a logical step toward broadening our services throughout the Midwest."
FCIC Missouri Maverick Auto Program is being offered through the strategic partnership with local independent agencies. Consumers can visit their local agent and request the new FCIC Missouri Maverick Auto Policy. Those consumers not having a particular local independent agent should contact Janet Mueller, FCIC Missouri Marketing Representative at JMueller(at)FIRSTCHICAGOINSURANCE(dot)COM and FCIC can direct them to the nearest available independent insurance agency providing their insurance products.
ABOUT FIRST CHICAGO INSURANCE COMPANY
First Chicago Insurance Company and affiliates, First Chicago Insurance Services and United Security Health and Casualty Insurance Co. are members of Warrior Invictus. These companies, which trace their roots back to 1920, provide auto insurance, both personal & commercial auto, supplemental health, accident, cancer, disability and other niche insurance products. Company questions can be directed to Sandra Horn at 1-708-475-6104, or consumers can call the company directly at 1-844-232-1200 or visit http://www.firstchicagoinsurance.com.