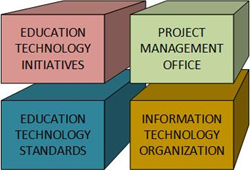 Is your school ready for the 21st Century? It's already here! Take the ETSA to find out.
San Diego, CA (PRWEB) October 26, 2016
The Education Technology Strategic Assessment (ETSA) is a tool available to all K-12 Educators and Technology leaders to test if their school is ready to support the needs of their students' technology needs, that include: one-to-one computing, BYOD, Classroom Technology, 10Gbps network infrastructure and WIFI.
Now offered at no cost, the ETSA is a simple 20 question test that will assess a school or school district's ability to support the needs of digital natives - today's K-12 student, who may need a laptop, tablet, smartphone, and learning management system. Their needs may include access to the Internet, private-cloud file storage and eportfolios.
The questions are categorized in four areas of a school's Education Technology Strategy and Infrastructure:

Education Technology Initiatives
Project Management Office
Education Technology Standards
Information Technology (IT) Organization.
Take the test now at http://www.vidalcasey.com.
Networld Solutions, Inc., has been developing the newly published Education Technology Strategic Assessment (ETSA) for over 20 years, to aid schools to plan and implement some of the largest One-to-One computing and BYOD implementations in California. Their Education Technology consultants have provided the strategic planning for over $500,000,000 in technology modernization programs including: 10Gbps Backbone networking, WIFI saturation, VoIP, and 21st Century Classrooms.
This is the first time the ETSA has been made available for free.
Through this extensive experience, Networld's Senior Education Technology Consultant, Darryl Vidal, has developed the Education Technology Strategic Assessment and it is now available to all educators.