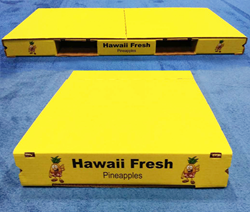 Orlando, FL (PRWEB) October 26, 2016
At the trade shows, Lifdek displayed multiple sizes and configurations of corrugated pallets and skids and an assembly machine. Lifdek™ pallets and skids uniquely fold together from two die cut blanks in under a minute and can ship up to 3,000 lbs.
According to Joseph Danko, President of Lifdek, "The trade shows were very successful. Lifdek pallets and skids attracted both new end customers in produce as well as potential licensees interested in producing, marketing and selling Lifdek pallets and skids. We also saw interest in our new printed POP and display pallets that debuted at the tradeshows."
Lifdek pallets were originally developed to address the needs of the largest section of the pallet market, fast moving consumables. Incoming pallet freight and pallet storage costs are reduced by 80% because Lifdek pallets and skids are received and stored flat. Lifdek pallets and skids are recycled by the end receiver with other used corrugated boxes, generating recycling revenue while eliminating staging, storing and loading costs required with wood pallet retrieval. At less than eight pounds, Lifdek paper pallets and skids offer substantial air and LTL freight savings when billed by weight and are a safer alternative for employees and retail customers. This one-way shipping approach also eliminates the chance of cross contamination from prior use, providing substantial safety benefits for grocery and pharmaceutical applications.
Lifdek licenses its pallet and skid technology to box manufacturers worldwide, which produce the die cut blanks for their own use as well as their local customers. Lifdek licensees have access to over a hundred pallet and skid sizes and designs, with new sizes readily available to accommodate a company's specific requirements and applications.
About Lifdek Corporation
Lifdek is a developer of corrugated pallet and skid technology that enables companies to reduce pallet related costs and liabilities, while offering safe and sustainable shipping platforms. Lifdek pallets can be uniquely and completely assembled on-site prior to use. The patent pending pallets and skids are available worldwide.
For further information, visit http://www.lifdek.com