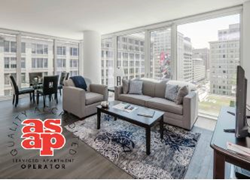 Our guests mean everything to us and we always want to provide the best temporary housing experience we can and quality control is absolutely key to a successful stay.
Chicago, Illinois (PRWEB) October 26, 2016
As a local leader of fully furnished apartments in the Midwest, the team at Suite Home Chicago strives to maintain the highest standards of quality and service. On October 18, 2016, Suite Home was granted Quality Accreditation by the Association of Serviced Apartment Providers (ASAP), confirming our level of commitment to providing our guests with the best possible experience.
As stated on the Corporate Housing Providers Association (CHPA) website, "ASAP professional quality assessors use a well-tested and successful process of assessing a sample of the operator's inventory by mirroring the guest experience. Areas assessed include Guest Experience, Housekeeping/Maintenance, Exterior/Arrival, Living/Dining Room, Bedroom(s), Bathroom(s), Kitchen, and Additional Facilities. Assessors conduct a detailed overnight assessment by staying in one of the apartments, followed by up to 9 further apartment assessments the next day. Each day assessment typically takes 30-45 minutes to complete. Assessment scores and comments are based on the operator's communications about their apartments, actual online reviews and guest evaluations, as well as adherence to applicable safety and operational regulations.
Housekeeping forms a major part of the assessment process and is not limited to the importance of cleanliness. The process is designed to ensure other critical factors such as television remote controls, lights bulbs and digital clocks are all operational and working effectively. Specific focus is given to the comfort of the bed, the condition of the apartment in general and that it is being advertised accurately.
"I am thrilled to have successfully completed this quality assurance assessment," Suite Home Operations Manager Sarah DiDavide said. "Our guests mean everything to us and we always want to provide the best temporary housing experience we can and quality control is absolutely key to a successful stay."
Owner Jennifer Breen added, "I am proud of our Operations team. They completed this assessment process at the height of their busy season and came out with flying colors."
"In addition, our amazing and dedicated housekeeping team received near perfect scores. That is incredible news and I could not be more proud of our team," Breen said.
Suite Home Chicago underwent quality assessment inspections at four of their properties downtown, including inspections at Aqua in Lakeshore East, Marquee at Block 37 in the Loop, Moment in Streeterville, and Mila on Michigan Avenue. The company plans to have their suburban inventory inspected in next year's reassessment.
About The ASAP Quality Assurance Program
ISAAP (International Serviced Apartments Accreditation Programme): is the first ever global accreditation programme developed for the international serviced apartment industry by the UK's Association of Serviced Apartment Providers (ASAP).
ASAP (Association of Serviced Apartment Providers): is the not-for-profit trade body dedicated exclusively to the serviced apartment industry. Our 165 members own and operate over 100,000 properties throughout the UK, Ireland, Europe, the USA and Canada. Our membership also includes 15 serviced apartment agencies committed to supporting and growing the sector. Our members generate annual revenues of £600 million, and we sell three million accommodation nights each year. We provide employment to many thousands of people and our staffing costs are in the region of £70 million, many of which are low paid jobs. Founded in 2002, our members range from large international companies to small independent operators so represent the full cross-section of the industry. To learn more, visit http://theasap.org.uk/memberships/quality-accreditation-programme/.
CHPA (Corporate Housing Providers Association): is the only trade association dedicated exclusively to the corporate housing industry. The association expects members to uphold the highest standards in business and professionalism; provides valuable insight, knowledge and resources to the industry; and increases visibility among related industries. Along with networking, education, certification, and information sharing, CHPA members grow their business and expand their reach through an international network of partners. Find out more about corporate housing or serviced apartments at http://www.chpaonline.org.
About Suite Home Chicago
Established in 2005, Suite Home Chicago offers luxury furnished, corporate apartments with flexible leasing terms throughout the Chicagoland (and now Milwaukee) area. The units are fully equipped with modern furnishings, luxury linens, and all the housewares needed for a temporary stay. The Suite Home staff strive to provide guests a "home away from home" experience, and are equipped to handle large corporate groups, project work, relocation, medical travel, entertainment crews, interns, and government travel.
Suite Home Chicago is a WBE-certified woman-owned business and a CCHP (Certified Corporate Housing Providers) Accredited member of the Corporate Housing Providers Association (CHPA), a professional trade association exclusively dedicated to supporting corporate housing providers. Suite Home Chicago owner Jennifer Breen is a certified Corporate Housing Professional (CCHP) and a member of the planning committee for the Chicago Corporate Relocation Council (CRC). To learn more about Suite Home Chicago, please contact the company headquarters at (312) 638-0891 or email sales(at)suitehomechicago.com.