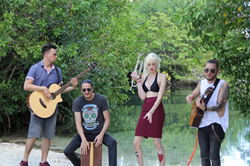 Cancún, Quintana Roo (PRWEB) October 26, 2016
Hacienda Tres Ríos continues growing in international relevance offering its majestic surroundings for the shooting of the new video "Me and My Man" by the versatile indie folk band Jenny and the Mexicats.
The luxury ecological resort was selected by the band as the location for this new production, taking advantage of the natural attractions that the tourist complex offers.
The band members foresee that this new video will be a big success as they have complemented their great musical beat with the resort's visual attractions, such as the remarkable shades of the Caribbean Sea and the beauty of the Riviera Maya.
The band is conformed by Jenny Ball, trumpet player, composer and singer from Great Britain; David, percussionist from Spain, and the Mexicans Pantera and Icho guitar and double bass respectively.
During the shooting of the new video, the crew were able to capture the beauty of the cenotes and the bio-diversity that Tres Ríos Nature Park shelters.
The new video is expected to come out very soon with wide circulation mainly in the United States and Latin America.
Hacienda Tres Ríos is one of the trending places in the Riviera Maya due to its services as well as its natural and environmentally friendly attractions, thus it is constantly sough after as the location for this kind of productions.
What Hacienda Tres Ríos offers represents a great opportunity for all its visitors to surround themselves with natural attractions such as natural rivers, sinkholes, nature paths and mangroves. Guests can take advantage of many activities such as kayaks, segway tour, snorkel, swimming in the rivers and cycling among many others.