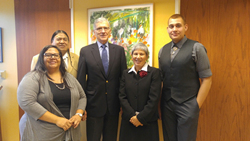 The dispute regarding the Dakota Access Pipeline shows what can happen when private interests intersect with historic preservation
Washington, D.C. (PRWEB) October 27, 2016
Alvin Windy Boy Sr. didn't set out to become an expert on government regulations and how to deal with industries applying for permits or licenses from federal agencies. But he has had to demonstrate proficiency doing just that literally thousands of times. And by doing so, he believes he can now help other tribes preserve what is most important to them.
Windy Boy is a Tribal Historic Preservation Officer (THPO) for the Chippewa Cree tribe located inside of Montana. His position's responsibility was established by 1992 amendments to the National Historic Preservation Act (NHPA). Windy Boy and other THPOs like him at federally recognized tribes are formally tasked with the preservation of cultural, religious, and historic sites on tribal lands. When a Federal agency licenses or permits a third party to undertake a project on tribal land, Section 106 of the NHPA dictates that the agency must consult with tribe. The designated THPO is responsible for responding to inquiries regarding undertakings occurring or affecting historic properties on tribal and/or aboriginal lands.
"With lands inside a state, typically the State Historic Preservation Officer serves to consult with the industry that received the permit or license," said Windy Boy. "But when a federal agency like the Federal Communications Commission (FCC) has an undertaking that may affect historic properties located on tribal lands, tribal consultation is required for the Section 106 process."
Tom Wheeler, Chairman of the FCC, met on October 21st, 2016 with Windy Boy and other Tribal Historic Preservation Officers. Part of that discussion was the successful Section 106 consulting undertaken for the FCC's Tower Construction Notification System (TCNS). Windy Boy gives the FCC high marks in regards to this process. "The FCC has actively worked with our tribe, as well as others. I appreciate Chairman (Tom) Wheeler and his staff's consistent efforts to ensure industry undertakings mitigate any adverse effects on tribal lands."
But tribal consultation doesn't always proceed as smoothly. Under the law, tribes that fail to conduct their Section 106 consultation in a timely manner risk potentially permanent impact to their historic, religious, and cultural sites.
"We used to have amazing amounts of paperwork for each consultation," said Windy Boy. "Until, that is, I reached out to some software engineers at Northern Montana State University. Over a period of years, the engineers were able to develop a program we now call iResponse. It automates almost all of the Section 106 process. It works better for us, the industries involved, and the federal agencies. This was a success I was more than happy to discuss with Chairman Wheeler."
Cultural preservation is something Alvin Windy Boy Sr. believes must be taken seriously. That is why he is offering each of the 567 federally recognized tribes complimentary access to the iResponse software right now.
"The dispute regarding the Dakota Access Pipeline shows what can happen when private interests intersect with historic preservation," said Windy Boy. "Section 106 of the NHPA was designed to avoid just such situations. We want to offer a solution. And if iResponse can help-- and we think it can—we want to make it easy for tribes to get started with it at iResponse106.com today."
Pictured from left to right are: Sheryl Bird, THPO, Cherokee Nation; Alvin Windy Boy, THPO Chippewa-Cree Tribe; FCC Chairman Tom Wheeler; D. Bambi Kraus, President National Tribal Historic Preservation Officers Association; Everett Bandy, THPO, Quapaw Tribe of Oklahoma
For more information, please contact:
Alvin Windy Boy (Alvin(at)iResponse106(dot)com)
Tribal Historic Preservation Officer, Chippewa Cree Tribe
PO Box 230, Box Elder, MT 59521
406-395-4215