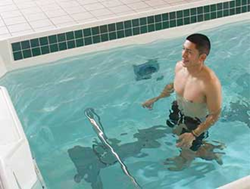 Middletown, PA (PRWEB) October 25, 2016
Athletes who regularly engage in overhead arm and shoulder throwing motions are all-too-familiar with the threat of a SLAP tear. SLAP, an acronym for "superior labrum, anterior to posterior", refers to a torn labrum, the rubbery tissue ring surrounding the shoulder socket. A SLAP injury can run the gamut from mild to severe, with surgical interventions and rehabilitation required in many cases. One type of SLAP post-surgery rehab modality making headlines for its excellence is aquatic therapy.
For Ryan Bitzel, MPT, San Diego Padres' Rehabilitation Coordinator, SLAP tears among his athletes are always a possibility. To help his population of baseball players recover faster and with less chance of undue stress on their shoulders, he and his team use a variety of rehab techniques and tools, including an advanced hydrotherapy pool. Bitzel will share his experiences assisting athletes during a two-hour, CEU eligible (for athletic trainers) HydroWorx hosted webinar on October 26, 2016, from 1:00-3:00 p.m. E.D.T.
Bitzel's webinar is focused around a specific case study, However, the two-hour multi-faceted informational session will include comprehensive discussions of the anatomy of the shoulder, why SLAP injuries occur in overhead throwing athletes, clinical signs associated with labral tears and other injuries, and the stages of aquatic therapy post-op rehab for SLAP injury recovery. Additionally, Bitzel will share specific exercises that successfully advance the goals of SLAP surgical patients, as well as discuss the unique water properties that make hydrotherapy beneficial to shoulder rehab patients.
"The Rehabilitation of a Professional Baseball Player Post-Op SLAP Repair Incorporating the Use of Aquatic Therapy" is free to attend, but pre-registration is necessary to join the two-hour webinar. Athletic trainers can receive two (2) continuing education units (CEUs) through the BOC if they watch the live webinar in its entirety.
Interested participants are encouraged to sign up as soon as possible at http://ww2.hydroworx.com/webinar-labral-repair-10-2016 to reserve a place. At the end of the webinar, Bitzel will hold a Q&A session to address attendees' discussion points.
About Ryan Bitzel
Now in his 6th season as the San Diego Padres' Rehabilitation Coordinator, Ryan Bitzel earned his master's degree in physical therapy from Walsh University, North Canton, Ohio. He specializes in the rehab of athletes recovering from elbow UCL reconstructions and shoulder surgeries. Bitzel regularly utilizes aquatic therapy for rehab, cross-training and conditioning.
About HydroWorx
Since the late 1990s, HydroWorx has manufactured aquatic therapy products with built-in underwater treadmills to enable rehabilitation professionals to more effectively offer their patients and athletes the opportunity to increase range of motion, decrease risk of falls and joint stress, remain motivated through the rehab process and speed the return to play for athletes and every day normal activities.
Products such as the HydroWorx 2000 and 500 Series therapy pools, along with the new construction-free HydroWorx 300 system have revolutionized the face of aquatic therapy; in fact, HydroWorx technology is used by world-class facilities like the renowned Kennedy Krieger Institute, Cleveland Clinic, Frazier Rehab Institute and The Andrews Institute, as well as many elite athletic programs including the University of Oregon, Kansas City Royals, Washington Redskins, The Ohio State University, Manchester United and Chelsea Football Clubs and hundreds more.
HydroWorx offers a wide range of underwater treadmill pools and peripheral products and services. Every day, more than 29,000 athletes and patients use HydroWorx technology to recover from injuries and health conditions.
More information about HydroWorx can be found at http://www.HydroWorx.com