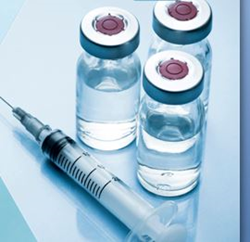 VetStem hopes to deliver an FDA-approved "off-the-shelf" stem cell product in 2018
Poway, CA (PRWEB) October 27, 2016
VetStem Biopharma, Inc., announced that a landmark peer-reviewed manuscript on stem cell therapy of canine osteoarthritis has been published. The placebo-controlled study of allogeneic adipose stem cell therapy in dogs with clinical arthritis is the largest study of its kind to date in the veterinary literature.
This double-blinded, multi-site, placebo-controlled field efficacy study enrolled approximately 90 dogs with osteoarthritis. The dogs, who received a single intra-articular injection of stem cells demonstrated a statistically significant improvement in treatment versus placebo (p<0.05). The primary endpoint was treatment success based on the Client-Specific Outcome Measurement (CSOM) on day 60 as compared to day 0. Additionally, the veterinary assessment of pain showed a statistically significant improvement in the stem cell treated dogs compared to the controls. The final study report was submitted to the FDA and the peer-reviewed manuscript was published in Frontiers in Veterinary Science – Veterinary Regenerative Medicine in the September 16, 2016 issue. Titled "A Prospective, Randomized, Masked, and Placebo-Controlled Efficacy Study of Intraarticular Allogeneic Adipose Stem Cells for the Treatment of Osteoarthritis in Dogs," this study evaluated VetStem's novel allogeneic stem cell product in client-owned dogs in a formal FDA study. The nine independent investigators in this study are leaders in surgery and pain management and are co-authors on the peer-reviewed publication.
As the first company in the world to offer fat derived stem cell services for veterinary use, VetStem has rapidly developed the market, providing treatments to over 12,000 horses, dogs, cats and exotic species. "With this progress in demonstrating the feasibility of using donor-derived (allogeneic) stem cells in treating osteoarthritis, VetStem hopes to deliver an FDA-approved "off-the-shelf" stem cell product in 2018 in its mission to bring this novel therapy to practitioners in a cost-effective manner," said Dr. Bob Harman, CEO and Founder of VetStem.
The study was financially supported by Aratana Therapeutics, VetStem's US licensee and commercial partner. Aratana will launch the product upon approval by the FDA and provide marketing and sales to deliver this product to the US veterinary markets. Aratana has recently received FDA approval for three new canine products, demonstrating both commitment and expertise in the growing pet therapeutics market. VetStem is also in the process to get EMA approval for launch in the European markets.
About VetStem Biopharma
VetStem Biopharma is a veterinarian lead company that was formed in 2002 to bring regenerative medicine to the profession. This privately held biopharmaceutical enterprise, based near San Diego (California), currently offers veterinarians an autologous stem cell processing service (from patients' own fat tissue) among other regenerative modalities. With a unique expertise acquired over the past 14 years and 12,000 patients treated by veterinarians for joint, tendon or ligament issues, VetStem has made regenerative medicine applications a therapeutic reality beyond the realm of research. The VetStem team is focused on developing new clinically practical and affordable veterinary solutions that leverage the natural restorative abilities present in all living creatures. The company's stated mission being "to extend and enhance the lives of animals by improving the quality of recovery in acute conditions, but also by unlocking ways to slow, stop and ultimately revert the course of chronic diseases". In addition to its' own portfolio of patents, Vet-Stem holds exclusive global veterinary licenses to a portfolio of over 70 issued patents in the field of regenerative medicine.