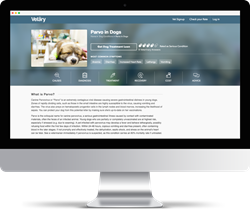 "What Vetary is doing is truly remarkable and will come as a welcome relief for pet owners and veterinarians alike," said Dr. Theodore (Ted) Cohn, DVM, Vetary's clinical advisor and recent president of the American Veterinary Medical Association.
SAN FRANCISCO, CA (PRWEB) October 27, 2016
Vetary, a division of Finrise, today announced it has launched the only marketplace exclusively for pet-care financing and wellness. Pet owners can now get qualified for immediate financial assistance, anytime and from any device, and veterinarians can offer financial solutions directly at the point of sale.
Vetary's breakthrough cloud-based financing solution eliminates the need for special credit terminals and much of the paperwork and administrative costs involved with legacy options. Those savings are passed on to both veterinary practices and the pet owners they serve. The process can be completed in just a few minutes, with terms presented in a completely transparent interface over a tablet or mobile phone. In addition to financing options, Vetary pet owners benefit from a comprehensive ecosystem of pet health information and 24/7 live support.
"Unfortunately, there aren't enough great insurance options for our pets, as there are for other members of the family." said Finrise medical director Dr. Zachary Landman, M.D. "Vetary makes sense. Pet owners can simply and easily afford for care when it's needed, and pay for it on a timeline that makes sense for them."
Americans spent an estimated $15.73 billion on veterinary care in 2015, with three quarters of pet-owning households making at least one trip to the veterinarian. According to an APPA survey, dog owners spent an average of $235 on routine vet visits in 2015 — cat owners $196. The average lifetime cost of a dog is $23,410 but can go as high as $100,000, with nearly 40% of the cost going toward health care. And yet, less than one percent of the 90.5 million cats and 73.9 million dogs owned by Americans are covered by pet health insurance.
"What Vetary is doing is truly remarkable and will come as a welcome relief for pet owners and veterinarians alike," said Dr. Theodore (Ted) Cohn, DVM, Vetary's clinical advisor and recent president of the American Veterinary Medical Association. "Anyone who has worked in veterinary medicine has experienced the frustration and dismay of deferred care or even care shelved indefinitely, due to financial considerations. Many owners love their pets as much as any member of the family, and yet they still struggle to find reasonable ways to afford even the most basic care for their animals. Vetary provides a smart and fair way of addressing those concerns, so that animals can receive the veterinary medical care, which they need."
Beyond making pet care affordable by paying over time, the Vetary team utilizes design and data to enable universal access to best-in-class pet health information and resources. "The Vetary technology and digital wellness ecosystem simplifies being a pet owner," says Tyler Quiel, Vetary COO and co-founder. "We want pet owners to take an active role in managing their pet's health. This includes decision-support services, symptom checkers, qualified treatment options, and a constantly updated list of pet-care providers — for free. In fact, more than a quarter of a million pet owners have benefited from the Vetary ecosystem since launch."
Pet owners and Veterinarians aren't the only one to benefit from the cost saving technology. Vetary gives back to local 501(c)(3) animal organizations through The Vetary Foundation. To date, Vetary has engaged with more than 200 animal rescue and care organizations. Each time a pet owner is referred from a partner organization, the Vetary Foundation makes a donation.
Vetary will be available immediately in Utah and Missouri, with additional expansion in other regions of the U.S. in coming months. Veterinarians can now sign up to offer their patients affordable financing options or painlessly switch from an existing solution at https://www.vetary.com/credit/vets. Pet owners can prepare for their next visit by prequalifying at https://www.vetary.com/apply/credit/. Vetary is accredited by the Better Business Bureau (BBB).
About Finrise
Finrise is building tailored solutions to suit both doctors' and patients' needs, starting with Vetary, which launched exclusively into the $29B veterinary market in early October 2016.
Finrise is the simplest way to finance treatments and services that are not typically covered by insurance, directly in the doctor's office. Our mission is to increase the accessibility of quality healthcare, starting with patients of dental, audiology, and veterinary services. The entire process is seamless — with the financing provided in the form of a transparent interest rate loan with multiple term options and immediately available payment. Finrise is headquartered in Burlingame, CA with investment from NFX Guild, Mayfield, WTI, and several notable private institutional and individual investors. For more information, please visit https://finrise.com/.